Lighthouse - January, 2014.
Another Success for CSS Projects, Oil & Energy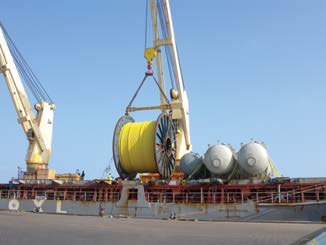 The CSS Projects, Oil & Energy division recently completed a delivery of loose cables, which was over 16 km's in length. The task at hand was to find a solution that would enable the client to transport and install the cable under the sea, in a smooth and effective manner.
The 22KV subsea composite cable, had a volume of 450 freight tonnes, and was picked up from Tonsberg, Norway and delivered in Abu Dhabi for a government project in the Umm Al Dalkh field. "The success of this movement was in a solution oriented approach, from the inception of the idea to final execution the team involved played an extremely crucial role to ensure the needs of the client were met," added Ahmad Fuad, Sr. Business Development Manager, CSS Projects, Oil & Energy and Mr. Fred Konings, M.D. from Europe Cargo.
CSS Projects, Oil & Energy also sourced the steel drum and the required equipment's that allowed for the cable to be delivered as a cable drum, to assist in final installation.