Lighthouse - March, 2014.
C.H. Robinson Visits CSS Group in Dubai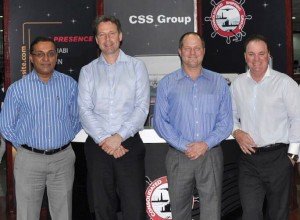 CSS Group, recently hosted Ivo Aris, Director- Europe Global Forwarding and Tom Sweet, Vice President Overseas Development – Global Forwarding of C.H. Robinson at their offices in the United Arab Emirates.  As part of the visit, the guests from C.H. Robinson met the Senior Management of CSS and were given a tour of the CSS offices and facilities in Dubai and Jebel Ali.
"The main objective was to discuss C.H. Robinson's Middle East strategic focus as well as to explore ways both CHR and CSS Forwarding division can leverage the CHR global network and CSS's regional platform in the Middle East," added Ken Dinnadge, VP Business Development.
Commenting on the recent visit to the CSS Offices in the UAE, Ivo Aris, Director- Europe Global Forwarding said, "Our meetings in Dubai inspired us in Europe to step up and put extra efforts into further building our trade lanes with the Middle East.  C.H. Robinson Europe is exploring ways to develop a MENA region strategic focus for our customer requirements."
ABOUT C.H. ROBINSON:
Founded in 1905, C.H. Robinson is a global provider of multimodal logistics services, fresh produce sourcing, and information services to 45,000 customers through a network of 285 offices and over 11,500 employees around the world. The company also provides access to over 63,000 transportation providers worldwide.
For further information please log onto: www.cssgroupsite.com & www.chrobinson.com
Approved Agents in UAE, BAHRAIN, QATAR, OMAN, KUWAIT, SAUDI ARABIA & IRAQ.