Lighthouse - January, 2015.
CSS AT FPS Meet
PORTO HOSTS 16TH FPS ANNUAL MEETING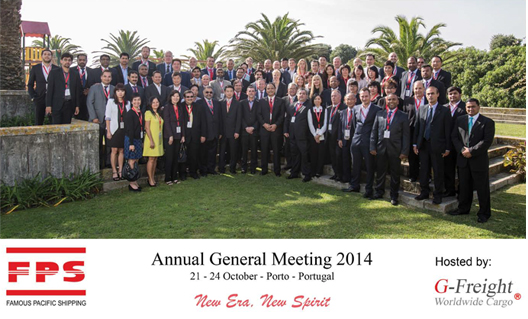 CSS Delegation attended the 16th Annual Meeting of FPS Group – the global forwarding and NVOCC network –which hosted 87 delegates from 40 countries. The intensive 4-day programme – under the theme "New Era – New Spirit" – took place in Porto, Portugal, and was hosted by local FPS member, G-Freight. In addition to the formal AGM and shareholder business, followed by updates on IT, network development and marketing, this year's event also included 828 one-to-one meetings between members, spread over two days.
Three new members – Link Logistics of Turkey, FP Shipping of Singapore and Facilities Shipping of Pakistan – were introduced to delegates.
Speaking after the event, FPS Group Advisory Board Chairman Benny Ling said: "Despite the unfortunate clash with India's Diwali celebrations, we had a strong turn-out, and many new business opportunities arose from the meetings between members."
"FPS remains committed to strengthening its network for the benefit of all its members, rather than for the owners' financial gain. The Annual Meeting has re-charged everyone's enthusiasm, and we go forward with a number of plans for the coming year that will see our system grow larger and stronger."
The 17th FPS Annual Meeting will take place in October 2015, in the major port city of Xiamen, Eastern China, hosted by FPS Xiamen.
CSS Group was represented by Siby C Kurian- Sr. General Manager Sales & Marketing CSS Group, Rajesh Arora- VP CSS India, Narayan R T- General Manager CSS Bahrain, Dean Landers- General Manager CSS Kuwait, Asghar Malik- Country Manager CSS Pakistan & Midhun George, Sales Manager CSS Abu Dhabi.