Lighthouse - March, 2016.
Maritime and More
Interview with Sohan Roy, Founder Chairman & CEO of Aries Group of Companies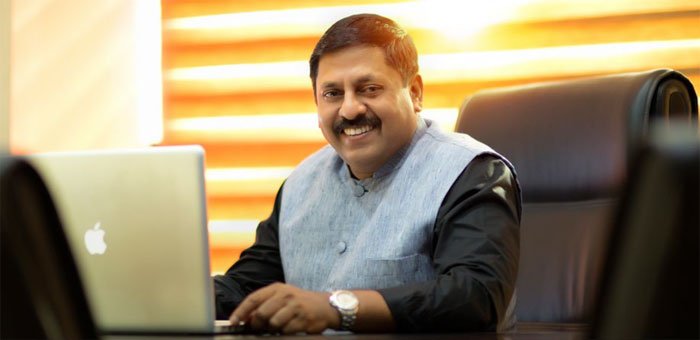 A Ship Designer by profession, Sohan Roy started his career as a Marine Engineer, to become the first Naval Architect in India to join Merchant Navy. Along with a Guinness Book entry, today he has global reputation as the Director of the Oscar selected movie DAM999 and the Creative Head & Project Designer of many award winning films & documentaries. He is also the President of the International Maritime Club (IMC) and founder of the first global maritime TV channel, Marine BizTV.
Sohan Roy speaks about his concepts and vision to, G. Unnikrishnan, Head of Marketing and Corporate communications, CSS Group, in an exclusive interview.
IMC has been working as an umbrella organisation for the maritime world for quite some time. Is there any specific reason behind the Cochin chapter inauguration now?
IMC has been active since 2007 in UAE. One of its objectives is to have Marine Cities across the world in all maritime hubs were Mariners can stay, work and learn together in an exclusive housing colony along with having a branch of IMC in that hub. Since the concept of IMC got evolved from Cochin, we decided to have the first marine city at Cochin. Also to make the process more effective we need to have a branch of IMC there for its smooth execution. Since thousands of mariners are staying in and around  Cochin it has a huge potential to support Maritime Industry through Marine City and IMC. Cochin is just a beginning . We are planning to have 10 branches of IMC to be initiated this year itself.
As a guiding figure for the IMC, could you give us your larger vision on the future of this great union of Maritime associations?
The ten objectives of IMC are the Integration of the Maritime organizations for better interaction, quality based accreditation of Maritime institutes, Knowledge sharing through Events, Identify & honour the achievers and talents, Promote charity activities, Effective Utilization of Govt. funds, Establish Marine Cities, To attract investments to the Maritime industry to create more job opportunities, Amicable settlement of Maritime Dispute and the initiatives for Maritime Sustainability. Even though having the huge potential while controlling two third of the world, Maritime Industry is one of the most disintegrated community without having the vision of "those who rule the sea can conquer the world". The very dream of IMC is to make it happen through an efficient unified maritime community.
Consolidated Shipping Group is an NVOCC, what advantages do an NVOCC have in associating with IMC?
As long as 90% of trade happens through sea, NVOCC will have its major role in the Maritime Industry. Organizations like IMC can take up initiative to guide and put pressure on developing countries like India to open up more and more ports without any delay to boost the cargo movements. Once a container transport system is in place development of that country is automatic as it boosts both import and export. Ports like Vizhinjam would have realized long back if IMC had taken initiative.
Can you explain more about the Maritime city project
The very need of Marine cities is to create marine communities were mariners can walk to their office from home and can work till their last breathe while moulding the next generation in a better way. Future ship management companies shall be based in these communities so that the same vessel can be looked after by the same team for its better maintenance.  As sailors feel more comfortable to see their families being stayed along with co-sailor's families they shall extend their sailing life which is what really required for the industry these days not to lose experienced hands. Along with ship management, other areas like design firms, academies, survey firms etc. also can be a part of these marine cities.
According to your perspective, what are the impacts of the current socio political situation around the world on the shipping industry?
Crust and trough are part of shipping however; right now shipping is passing through its worst phase. Oil crisis, piracy, Civil wars, massive production of Chinese shipyards and the drastic reduction in the cargo movements to US & China may make it further worse.  But the expected economic boom in countries like India gives a lot of hope for a recovery.
Marine BizTV is the only channel dedicated to Maritime industry. What inspired you to begin such a venture?? Are you satisfied with the outcome??
I had to do a project as part of my Diploma course from Hollywood Film Institute and the idea of starting an exclusive TV channel for Maritime Industry got evolved from that clubbing with my Maritime experience as a Marine Engineer & Naval Architect.  Accordingly Marine Biz TV was launched in 2007 coinciding with the beginning of current shipping recession. As per our initial plans, it was to be commercialized within 3 years. As the Industry could not get out of the recession, it was not possible to get the right promoters for an infotainment channel like this. Presently it's a CSR initiative of Aries Group to support IMC and free downloading facility is made available to all even on mobile platforms. More than 7000 hours of technical contents are available in the library. Marine BizTV has become the official media for more than 500 maritime events. Even though Marine BizTV hasn't reached its real heights as planned, I'm satisfied with what it has gained during the worst phase of the Industry.
Sohan Roy is a versatile personality, but you are more known as a film director to the common man. Do you like that??
My passion was always into Films and destiny made me a Naval Architect. After my Engineering Degree I tried to join Film Industry. Due to the pressure from my parents I had to quit my dreams and join back my real profession. Aries was launched in 1998 and within few years I could make our design division as the best in Middle East. The day when one of my designs got into Guinness Book of World records, I decided to chase my dreams on movies again. Several Programmes & Documentaries were made for Marine BizTV to begin with that journey. Portraying the story of few mariners for the branding of Maritime Industry, DAM 999 was announced in 2008 and the movie got release in 2011 by Warner Bros with 5 Oscar short listing. So far the movie has been got into more than 100 film festivals and won several International Awards. It's a fact that I'm more known as a Film maker than a Ship Designer due to the glittering glamour of the Film Industry. Being a passion I spend 50% of my time for the movie industry even though Shipping is still my bread and butter.
What were the challenges you faced during the epic movie shoot of DAM999
DAM999 was not just another movie for the Indian Film Industry. It was the first movie ever made from the largest film making country in the real Hollywood Format. It was the first 2D  to 3D converted 4K scanned movie . Also it was the first perfectly designed synch Sound Movie. It was for the first time a Super Tanker was used for a Movie shoot and it became the largest floating object ever shown in any movie. The movie got released in 5 languages at a time even though it faced some bans. Even Indian parliament was stopped for 2 days due to the heavy protest to ban the movie due to its controversial subject. However we could launch the concept of Marine City through it.
Being a follower of your updates in the Social media, personally I felt that you love to travel a lot. What sort of perfection do you achieve during these vast travels??
Even though it requires a lot of travel to meet my official commitments I love to travel a lot. All my creative works are happening in the flight as I'm absolutely free from all disturbances. Also these travels give me a lot of experience to learn about the world and people, which is really required for any film maker. I attend several Film Festival across the world where I use to invite my maritime clients too which gives double satisfaction and better networking.
Your website mentions about the pioneering concepts, which are truly amazing. Have you ever thought about bringing in a governmental, state or central level participation for any of these projects?
Presently I'm working on a US$10billion Project called Indywood to revamp the entire Indian Film Industry within 5 years to make it on top of the world in quality and revenue too. There are 100 specific targets for this Project and more than 80% target sample analysis have been successfully done. The concept was launched in last Nov and the next edition will be at Ramoji Film City from 2016 Sept 24-27. It will be done with the Support of state government and Central Govt. Several policy amendments are needed to full fill the remaining targets of Project Indywood. We expect the Prime Minister and the Chief Minister to grace the occasion along with many IMC members who could be the future investors in Project Indywood as part of their branding. Kindly consider this as the invitation to attend this film carnival.