Lighthouse - July, 2014.
NAFL Gathering
CSS ATTENDS NAFL GATHERING OF ARAB UNION OF LAND TRANSPORT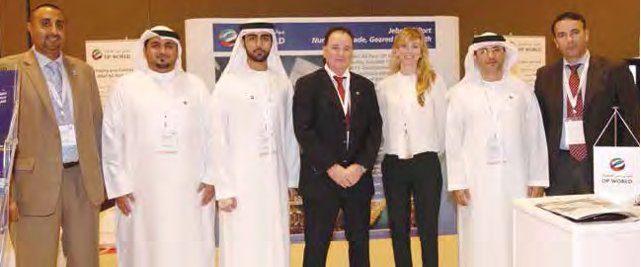 The National Association of Freight and Logistics (NAFL) on Sunday April 20th, 2014 hosted the Arab Union of Land Transport (AULT) annual meeting and  was inaugurated under the patronage of Sheikh Ahmed  Bin Saeed Al Maktoum, Honorary Patron, at the World Trade Centre in Dubai, UAE. The event focused on enhancing the industry and to improve operational efficiency in the freight and logistics industry in the region, with one eye on elevating the standards of the industry in line with the UAE's objectives of excellence.
Presentations on the industry were conducted by important senior officials and dignitaries. "NAFL is pleased to have hosted the annual meetings and its opening ceremony, and sees it as a chance to push the bar further up this year. This was an important event for our industry and we are proud to have had it in Dubai. The UAE has a modern and advanced infrastructure, which is vital for every growing economy," said David Phillips, President NAFL at the conference.
CSS Group was represented by Ken Dinnadge, VP Business Development and Amith Horra, Marketing Manager, at the event.  The event saw an attendance of over 700 participants from around 15 Arab nations and the UAE.
The spokespeople at the event were Mohammed Ibrahim Al Tuwaijri Arab League's Assistant Secretary for Economic Affairs, Abdulla Bin Damithan Director Commercial DP World, UAE Region, Saeed Al Tayer, Director of Jebel Ali Custom Centers, Atiq Juma Nasib Head of Dubai Chamber's Commercial Services Sector, Eng. Mahmood Al Bastaki, CEO Dubai Trade and Fahd Al-Rasheed the CEO and Managing Director of King Abdulla Economic City who spoke about the Kingdom's new project relevant to the industry.
"CSS is a NAFL member which is a non-profit organization with 310 members, including top multinational companies as well as large, medium and small national enterprises. NAFL is the official UAE representative of FIATA, which is the global body that represents the freight forwarding industry and works closely with UAE government bodies to help enhance the freight and logistics industry.  Attending this event was extremely important for CSS as it was an opportunity to interact with senior transport officials from member Arab states," added Ken Dinnadge, VP Business Development, CSS.
The main event supporters and host of NAFL were leading members of the shipping and logistics fraternity as well as key government institutions such as Dubai Chamber, DP World, Dubai Customs, and Etihad Rail.