Lighthouse - September, 2015.
New Facility for CSS in JAFZA
The new office and additional storage for CSS in Jebel Ali will be completed in a year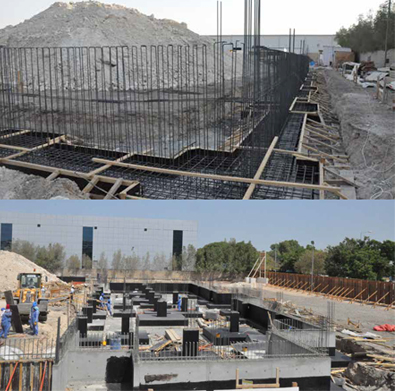 The construction work of the new office and storage facility of CSS Group has begun inside Jebel Ali Free zone area. Adjacent to the existing office building and the CFS, the new facility will increase the storage capacity of CSS, which in-turn will benefit the ever growing demand for warehousing facility inside JAFZA. Once completed, the new infrastructure will bring in an additional 47,850 Sq. Ft to CSS Group's existing 3 PL facilities in the Middle East. The new facility will have 3956 pallet positions with double deep racking facility. The storage area will be partly temperature controlled as well.
The ground breaking ceremony of the new building was done two months back in the presence of invited guests and dignitaries from the Shipping and Logistics community. The ground breaking ceremony of the new facility in JAFZA was attended by Dr. Mohammad Al Banna, Vice President – MEA Region, Economic Zones World, Malayalam Cine actor Mr. Anoop Menon, Mr. Srinivas from Orbit engineering consultants & Mr. Ajit T P from Space Max Contracting L.L.C.
CSS Group will have their Regional office along with a new warehouse within the new facility. The new facility  is expected to become operational in a year's time from the commencement of the work.