Lighthouse - January, 2014.
Uncompromised Commitment – DP World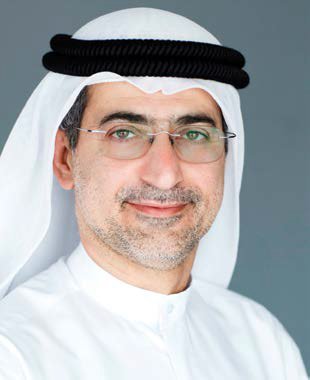 The Group CEO of DP World, Mohammed Sharaf speaks to Lighthouse about the activities and the ambitious growth plans of the company in this exclusive interview
Being present in 6 locations in India, please give us an insight on the future expansion plans of DP World operations in India?
India is an important and vital part of our global portfolio and we are committed to supporting India's growth into the future. DP World operates five marine terminals at Mumbai, Chennai, Kochi (Vallarpadam), Vishakapatnam and Mundra, with the greenfield  Kulpi port in West Bengal in the pipeline that will be developed in line with market demand.
In June 2013 we signed a new 17-year concession to build and operate a brownfield container terminal adjacent to the Nava Sheva International Container Terminal (NSICT) that DP World currently operates in Mumbai. The new 330 metre berth with 27 hectares of yard will add 800,000 TEUs (twenty foot equivalent container units) of container capacity and help ease congestion at Jawaharlal Nehru Port. DP World will invest around US$200 million to build the terminal. We are investing for the long term and we look forward to continuing to work with our partners and stakeholders in India into the future.
What plans you have in mind for the future of the flagship terminal, Jebel Ali?
As you rightly put it, Jebel Ali is our flagship facility and what happens here often sets the standard for container ports not just across DP World's global portfolio but also for the industry. In 2013 we added 1 million TEU in new capacity by extending Container Terminal 2 by 400 metres. An additional 4 million TEU will be added in 2014 when the ultra-modern mega Container Terminal 3 opens for business, taking the port's total capacity to 19 million TEU. When completed Jebel Ali will be the only port in the region capable of simultaneously receiving and handling 10 of the next generation Ultra Large Container Ships (ULCS) with a capacity of 18000 TEU each. Jebel Ali serves as a successful model that we replicate across our global portfolio, including DP World London Gateway, Embraport in Brazil and Callao in Peru.
Could you please tell us about your prospects in Africa as you are already present in this region?
Africa has great potential for growth and efficient infrastructure is essential for stimulating that growth, with ports the gateways to world trade. We have over 5,000 employees in Africa and each country in which we operate has its own unique set of circumstances that enable us to connect with infrastructure and the hinterland as well as neighbouring countries inland. Africa as an emerging market is one of our key focus areas and we are actively looking at different opportunities in various parts of the continent.  We don't comment on specific opportunities we may be exploring.
What are the plans in place for Vallarpadam (Kochi, Kerala) to help boost the business within the port and the region?
Vallarpadam represents our vision of an India that competes with other global economies by directly linking the vast domestic market to the busiest international trade lane connecting Asia to Europe. The relaxation of the cabotage regulation in 2012 by the Government of India was a forward-looking move and will help DP World to contribute strongly to the local economy. The terminal at Vallarpadam was conceptualised by the Government of India for this very purpose.
Will Ecuador be the 6th location for DP world in Latin America and how do you look at it as a strategic move for DP World?
We constantly explore opportunities around the world and invest in markets where we see potential to contribute to growth and where our customers want us to be. We don't comment on any particular opportunities unless there is something to announce. We believe Latin America has enormous potential and our goal is to support the main regional hubs that are so critical for the continent's rapidly growing economies.
DP World's investments across Latin America are in container terminals in Muelle Sur in Callao, Peru,  Embraport near Porto de Santos in Brazil and Terminales Rio de la Plata in Buenos Aires, Argentina – where we also operate a state of the art cruise terminal – as well as in Suriname's primary multi-purpose port in Paramaribo.


Could you please tell us about the upcoming future projects of DP World?
DP World has a portfolio of more than 65 marine terminals across six continents, including new developments underway in India, Africa, Europe and the Middle East. With our committed pipeline of developments and expansions, we expect capacity to rise to more than 100 million TEU by 2020, in line with market demand.
You have won so many awards and recognitions over the past years. How inspiring are those?
DP World operates its business with the aim of consistently delivering world class service to our customers and return on investment to shareholders. The awards are a bonus for the hard work and commitment of our employees, and would not be possible without the support we receive from our loyal customers like you, Consolidated Shipping Services (CSS). In taking this customer-centric approach, DP World is building on the established relationships and superior level of service demonstrated at our Jebel Ali facility, which has been voted "Best Seaport in the Middle East" for 19 consecutive years. There can be no greater inspiration.
What initiatives are there from the HR point of view to keep your 28,000 plus staff strength spirited?
Our people are at the heart of our business and that is why we are committed to building an inclusive, diverse and safe working environment. We work hard to ensure that responsibility is embedded in our everyday lives and to leave a lasting legacy in the communities in which we operate. DP World has a dedicated, experienced and professional team of 28,000 people serving its customers around the world, and the company constantly invests in people to provide quality services today and tomorrow, when and where customers need them.
As the Group CEO, how do you see the continuing success of DP World in its maritime terminal management business?
I believe the focus ought to be on world class customer service and being where our customers want us to be. Alongside that is continuous development as a marine terminal operator and growth as an innovative business, providing returns for our shareholders and developing our people. Success will follow. Our core strength is the spread of our network, our focus on emerging markets, container handling, re-engineering terminal operations whenever it is needed  and tailoring our investments to apply the three Cs – cargo, capabilities and capital wherever we operate. We deliver world-class terminal capacity and a world-class approach to container operations.
It will be interesting for us to know about the TURN8 programme.
TURN8 is a seed accelerator programme that encourages innovative and commercially-viable  ideas. It is an initiative launched by DP World in partnership with Innovation 360.  Our search for ideas through roadshows across the world involved an online campaign (see www.turn8.co) and visits to selected countries with active start-up cultures, including the UAE, Egypt, Jordan, Ukraine, Belarus, Singapore, Malaysia and the USA. A second wave of roadshows has also just begun.
TURN8 has uncovered some exciting new proposals, 10 of which are now short-listed for our support. The final projects range from consumer sentiment trackers and counterfeit goods detectors to a digital math tutor for children and an app to record dreams. The programme selects start-up teams with marketable ideas and supports them with funding, mentoring and training in exchange for a stake in any resulting business. It is the only one in the region that drives innovative and commercially-viable ideas from across the world from cradle to maturity. Our aim is to promote a start-up and innovation culture in the wider community by encouraging and supporting a mix of international and local ideas.
Since Dubai, UAE has been selected to host the Expo 2020, is Jebel Ali port ready to cater the expected additional volume or do you have any particular plans in place for the Expo alone?
Our entire team was behind the bid and we are excited and thrilled to have been successful.  Our attention turns now to making sure we have the infrastructure in place to support the building and running of the event, and we will be working very closely with our customers to do that.  We already have tried and tested capabilities, and we will now take this to a new level.  We look forward to working with Dubai and the UAE to host the world. This event will not only create opportunities for the UAE, it will also create new opportunities for the countries of the region and the people of the world.
What are the KPI'S that DP World stresses on in your worldwide operations as a maritime terminal management organisation?
There are four principle areas of focus that are consistent right across our organisation:  customer service – going the extra mile for our customers; safety, with each and every person in the organisation taking responsibility to ensure they and their colleagues go home safely every day; developing our people to make the most of their talent and giving them opportunities to use their potential to the fullest; and encouraging an innovation culture where we are always open to new ideas and new ways of operating.  These add up to sustainability and providing value to our stakeholders over the long term.