Lighthouse - March, 2018.
WITH STRONG DETERMINATION EVERYTHING IS POSSIBLE
With the recent promotion of Chandra Kala to COO of NVOCC, CSS Group the Lighthouse editorial team sat down to gain insight into her past, what she would want the Group's partner and agent networks to know and more.
By Minaal Pervaiz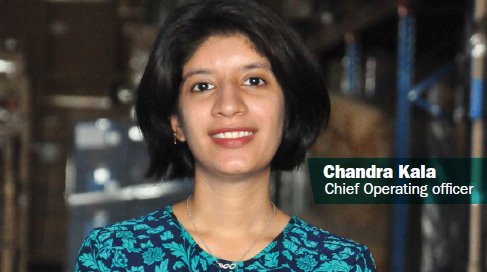 How would you sum yourself up in under two minutes?
I'm a workaholic. I like to get involved from the bottom [up]. If I am doing [a task], I would rather do it from A to Z – I don't like handing it over to anyone which [could be] both a bad and good quality of mine [laughs].
I like things to be perfect. Even for a tiny thing like a report [not being the way I want].
Tell us about your work background – take us through your entire journey.
Once I [graduated] from college with a BBA in Business Administration, I decided I wanted to do an internship abroad so I went to Singapore [and joined] Shipco Singapore for a year. It was an internship where I had to go to each department [like] import/export, agent development – a three month training in each aspect.
I went on to complete my MSc in Logistics after I joined the CSS Group.
What did you end up learning there that you then brought back here?
Basics of logistics – at least I had some knowledge by the time I joined [the CSS Group]! I started with the Key Information Desk – that's the Customer Service Desk that handles all customer calls. On the side, I would help the Marketing team. Then after a year, I was shifted to the Project, Oil & Energy division where I focused on Yacht & Marine logistics.
Again, a year passed and I was told to overlook Operations as the Assistant Operations Manager – I was completely involved with Operations after that point.
How did you first get involved in the Shipping industry?
Even though some don't end up joining their family businesses, I think I knew I was already going to join the CSS Group from an early age. It was [no surprise] – it was not a confusing decision for me to make. I was told to work myself up and I appreciate that because I wanted to know more aspects of logistics. You cannot learn it in one year – there is more to it. So I started with handling customers – their doubts and enquiries. You learnt something new every day!
In your opinion – for a CSS employee to get ahead within this company – what do you think it takes?
CSS is one company that has always given opportunities. You will see staff here that have been with us for a very long time. They grew from, say, the warehouse or the Reception. We always give them the opportunity to grow as long as they prove themselves, are hardworking and loyal. We do not let [our employees] stay stagnant for a long time.
How do you encourage loyalty among your employees? What does the company end up aligning itself with to create that environment?
I think the term 'loyalty' from an employee's aspect has changed over the years. I think it is any company's responsibility to protect their employees, and I think we do that at the CSS Group. Loyalty defers in that way but since we have a lot of employees that stay with us for a long time [10 to 15 years], I am assuming we are doing our job!
With your recent promotion to COO of NVOCC at the CSS Group, what does this mean for the portfolio that you will now be managing?
[Previously], I was more focused on ensuring operations went smoothly. Now, Ajay [COO, Freight Forwarding] and I will directly be responsible for making the CSS Group meet its overall targets and goals.
We have two networks – Freight Forwarding and the NVOCC. I will make the decisions when it comes to NVOCC that includes mostly the LCL consolidation business. Again, I will do what is best for the CSS Group.
How do you plan on getting your agents and customers excited about these new developments?
The type of service provided is essential – I telling my team that without service, customers do not come back to us. Even if you make mistakes, learn from them and do not repeat them.
Is there a certain approach that you have for yourself in order to make sure there is continuous success in this division?
My approach is to always discuss my ideas and/or goals with the team; where I want to go. I can set a goal for myself – that is not a problem – but I will not be able to consider further obstacles that I may have missed without discussing it with my colleagues; senior or junior.
How have you made yourself approachable?
The team I manage goes up to 45 members; I started from their level – they know me for a very long time! We – the CSS Group – have an open door policy. Any staff member is allowed to come to any senior management's office. I allow them to come any time. There is no point in you sitting in your cabin [office], waiting for them to approach you. Take your laptop, sit on their table. Just sit with them.
With the current state of affairs with regards to NVOCC and the industry at large, are there any positive or negative predictions you could make for the next year?
There are logistics companies that are coming in every day, but disappearing at the same rate too. They do not understand the importance of logistics – the basic concepts.
I would like to see mutual cooperation amongst other companies in the same field.
How you would handle failure?
If you know failure is coming, stay cool. Especially at my level, I cannot freak out or else everyone behind us will fall! We have to be confident even if there is impending failure!
What motivates you?
My team and colleagues.
What would you want your partner and agent networks to know with regards to this new announcement?
I would like to work in a mutual manner where we grow together, rather than it being just a one-sided relationship.