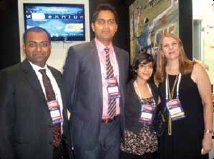 Intermodal South America is the leading integrated exhibition and conference event for international trade, logistics, transport and cargo handling in Latin America.

The event offers over 450 exhibitors from all over the world, presenting new products, the latest equipment's and technology innovation and a vast conference program, providing the unique opportunity and experience for more than 45 thousand professionals.

Siby Kurian, General Manager Sales & Marketing along with Roshmon Manoli, Team/Route Development Manager North America and Chandrakala, Management Trainee CSS Group, headed the CSS Group delegation.

Visitor's profile:

Industry/Manufacturing sector: Automotive industry; Petrochemicals/chemicals industry; Electrical industry; Machine manufacturing; Metals processing and refining; Household appliance; Research and development; Other manufacturing industry

Wholesale/retail: Super marts/chain stores; Food and perishables; Textile and garments; Biological and medical industry; Miscellaneous industry

Service sector: Freight forwarders/3PLs; Road transport companies; Railways; Air cargo; Private transport companies; Maritime shipping and ports; Other logistics services

Government agencies
Trade associations, institutes
Press and trade media

Key Facts and Figures:

Trade Exhibition – Where the key players of South American logistics, transport and cargo handling meet.
28,000 sq.m. Exhibition
Over 450 suppliers from all over the world
Over 45 thousand professional visitors from all over South America

Exhibitor's profile:

Freight transport system: Freight Transport; Dredging; Combined transport systems; Logistic system for ports and navigation; Logistic system for the air cargo industry; Maintenance and repairs; Security systems

Telematics, logistics, e-commerce (communications, data processing, control): Communications systems; Data processing systems; E-commerce and e-business systems; Transport control and DP systems; Integrated traffic management systems

In-House Transport And Material Flow Systems; Interfaces: Transport packaging, freight securing; Storage, conveying and distribution facilities; Facilities for loading bays and terminals (interfaces between internal and external material flow)