Lighthouse - September, 2017.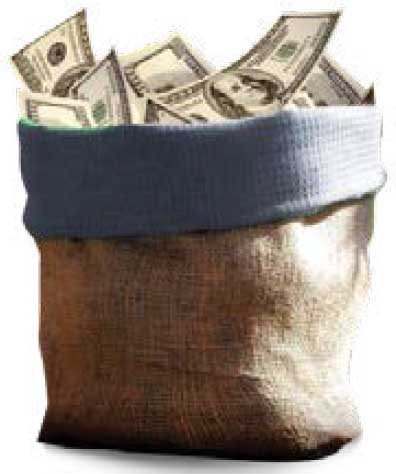 How often do you hear someone say; "If only I had the money?" No doubt, just like the Kaleidoscope team, you have even said it to yourself. Having money seems to be the answer to many, if not all, of our problems. Money plays an important role in our lives because without it we cannot buy food, clothes and other essential things. Most of us will agree that money, and the more we have of it, enables us to own many things; houses, cars, the latest gadgets as well as gaining power and fame. However, whilst such things may satisfy our desires and needs, having them will not necessarily make us happy.  A way to understand the role of money and how it affects you, for good or bad, it is consider that it is only a tool. If you do not know how to use it then it could injure or even kill you! Once you start on the money escalator, it's said that you must never forget your roots, otherwise you will lose yourself.
Nearly sixty years ago 'The Beatles' wrote their worldwide hit song, 'Can't buy me love'. In the chorus they sing; "I don't care too much for money, money can't buy me love". This statement is more revealing, when one considers its implications. Many lottery winners relate stories about how, after winning all the money, they seemed to lose their friends. Suddenly gained new friends turned-out to be 'money' friends who were only attracted to their new wealth. Having money and spending money buys you services, that brings with it courtesy and attention, which may be confused as friendship. The more money you have the greater the attention and service. People around you begin to say what you want to hear, rather than what you need to hear. They do so because they do not want to upset you. They need to keep either your friendship or their job!
Some years ago, one of the Kaleidoscope team visited Los Angeles for the first time. He was sneaked into a Universal studio lot where filming was taking place. It featured a movie-star who was known to be rather unpredictably emotional. Hiding at the back of the sound stage, imagine the astonishment of everyone when the star stopped the filming and shouted out; "Hey what are you doing here?" Thinking this was a sign of trouble there was a hushed anticipatory silence. This was happily broken when the star called to his manager; "Look after that guy. Give 'em whatever they want." It turned out that years previously, when completely unknown, the star had been a film extra, desperate for a meal. He hadn't forgotten who had bought him one without asking for or getting any payment. It was now unexpectedly repaid in full. Maybe this was why the unpredictable emotional actor had such acclaimed acting qualities, he hadn't forgotten his roots. The pleasure it gave everyone involved, remembering and chatting about things were when they both had very little money, gave real pleasure than money could buy.
The pleasure and joy of having a happy family is also something that money certainly cannot buy. Add to this respect and inner peace and it becomes more obvious that money really is just a tool, something which can be used to oil the wheels of life so they run more freely. Clearly a great advantage for those who have it but more dangerous for them, when they start to let the love of money drive their lives. Nowadays, as our world becomes ever more excessively concerned with material possessions and money-oriented, emotional, spiritual and mental welfare tends to take a back seat. We forget that only by using our money correctly may we achieve a happy heart and agreeable life.
Internationally acclaimed, singer-songwriter Ed Sheeran is someone else who appears to be determined to remain grounded in his roots.
He disclosed, during a BBC Radio programme that he employs, and surrounds himself, with his old school friends and family members. The reason is because they know him well enough, when he had nothing, to tell him when he is being stupid. If you stop believing your close friends, those who knew before you had money, you have probably started to create trouble for yourself. Guess how Ed summed up his attitude to enjoying what really matters to him? He said that, even with all his money, a luxury item he always makes sure he has, when touring, is a bottle of tomato ketchup.
If you think having more, and even more money, can give you the best feeling in life, maybe this true incident will convince you otherwise. When Big Bazaar opened their store in Trivandrum, Kerala; a customer noticed an elderly lady looking confused standing before an escalator. "May I help you?" he enquired. The lady replied that she had never seen 'one of these before and didn't know what to do'. The customer recalled later, to his friends, how much joy it had given him to see the pleasure in the lady's face when they reached the top. The incident had made his day. I wonder what the lady would have said if she had known that her helper had been a millionaire film/record producer English tourist. The pleasure she had given him, with the look on her face, was worth something that money could not buy.
Which brings us to our punchline in response to the proposal; 'Money can't but everything in life'. Whilst money plays an indispensable part in our lives it is not everything because family, friends and love are the only things which may give us true happiness. Unless you feel happy, content and have a good sense of self, when you reach the top of the escalator, then clearly you will realise that money can't buy you everything in life.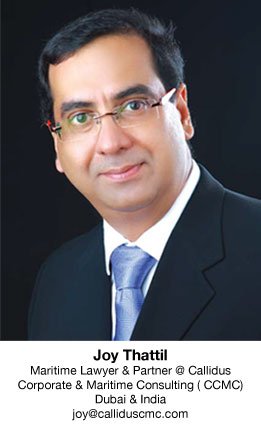 Maritime arbitration is being increasingly preferred as an alternative method of dispute resolution by the stakeholders in the maritime industry. Major maritime countries in the world have been upgrading their legal system with much emphasis on arbitration with the intention to project their country as an arbitration friendly forum. The contracting parties while deciding on the forum for arbitration basically seeks to resort to jurisdictions which provide for cost effective and speedier adjudicating procedure with finality of arbitration award, ensuring certainty in results.
London continues to dominate the maritime arbitration scene. It has been noticed that the London Maritime Arbitrators Association stood head and shoulders above all other dispute resolution centres. One of the advantage of the arbitration in England is that unlike other jurisdictions, the English courts usually allow you to raise questions on a point of law. This right of appeal can in a way prove advantageous to the parties.  The full implications of Brexit for arbitration in the UK are being closely monitored by the industry, but it does not appear to have had any immediate impact. For a number of reasons, London remains a very attractive venue for parties to choose as a seat for arbitration. Apart from London, Paris and Geneva are also much sought after arbitration jurisdictions.
Commercial arbitration in the United States originated in New York which has a long and rich history of supporting maritime arbitration and continues to be a leading maritime and commercial arbitration centre. Party autonomy is the hallmark of New York maritime arbitration. The parties are free to determine most procedural rules, and to select arbitrators (or the method of their selection) and the law to be applied. The arbitration awards are final and not subject to appeal save on narrow, largely procedural, grounds. A great majority of maritime arbitrations in New York are conducted under SMA (Society of Maritime Arbitrators) rules. Awards are enforceable in any country which is a signatory to the New York Convention on the Recognition and Enforcement of Foreign Arbitral awards and the Inter-American Convention on International Commercial Arbitration. Maritime awards in New York are usually final and binding. There are very few specific grounds under which an award can be vacated, and these are confined to the fairness of the arbitration procedure. A mistake in law or fact is generally not a ground for vacating an award. Motions to vacate, modify or correct must be made within three months of the date of the award.
Singapore is gaining global footprint in respect of maritime arbitration. Its established record of neutrality has contributed to its development. The courts in Singapore have offered maximum judicial support to arbitration and minimum intervention. The Singapore International Arbitration Centre (SIAC) stands out above the other regional arbitration centres. The country boasts a state of the art, integrated dispute resolution centre that houses first class hearing facilities and offices of top ADR institutes and dispute resolution professionals. Furthermore, Singapore has a judiciary that supports arbitration and there is a constant re-examination of legislation to ensure arbitration-friendly laws and processes are in place to promote and support arbitration. According to the International Chamber of Commerce (ICC) 2015 Report, Singapore has consistently been ranked as the number one preferred seat for arbitration in Asia and among the top five preferred seats globally. The International Arbitration Act and the Arbitration Act only set the framework governing arbitrations in Singapore. Consequently, the provisions are generally not mandatory insofar as parties are free to agree on the specific rules and procedures that bind them. This is in line with the fundamental principle of party autonomy in arbitration proceedings. However, the provisions relating to the enforcement, setting aside and/or appeal of the arbitral award are mandatory. The main arbitration organisations in Singapore are the Singapore International Arbitration Centre (SIAC), International Chamber of Commerce (ICC) and the Singapore Chamber of Maritime Arbitration (SCMA).The Singapore government has built an impressive infrastructure to support international arbitration in Singapore and has actively been behind efforts to promote Singapore as the obvious and best choice for arbitration in the region.