Lighthouse - September, 2014.
308 Tonne Transformer Movement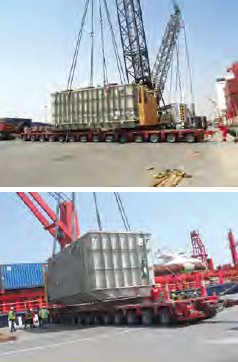 The team at CSS Projects, Oil & Energy, recently undertook a transformer movement from Derince, Turkey to the Ras Al Khor substation in Dubai. The volume of the cargo was 1000 CBM, and included a 308 tonne power transformer and accessories. Given that the weight of the transformer was greater than the crane gear a special 650 tonne crawler crane had to be arranged at both origin and destination ports to arrange the loading and unloading of the transformer.  As the shipment was time sensitive, the team at CSS had to ensure that there were no delays at any stage of the shipment until the final destination. Once it reached the port of destination, the transformer was discharged onto a 14 axle hydraulic trailer at Jebel Ali port and was then moved to the electric substation for final installation by jacking & skidding method. "This movement is a great example of how the team here at CSS Projects, Oil & Energy is able to handle movements that require multiple special handling methods, especially in the case of time sensitive shipments. The experience the team consists of gives them the confidence to immediately address the situation on hand and provide the client with the most effective solution in the given time frame," added Raj George Sr. VP, Projects Oil & Energy.