Lighthouse - July, 2016.
3D Printed Office Building
His Highness Sheikh Mohammed bin Rashid Al Maktoum, Vice-President and Prime Minister of the UAE and Ruler of Dubai, stated that the UAE has emerged as one of the major incubators of innovation and future technology in the world today, and its focused initiatives to shape the future have become global models that can be emulated in all sectors.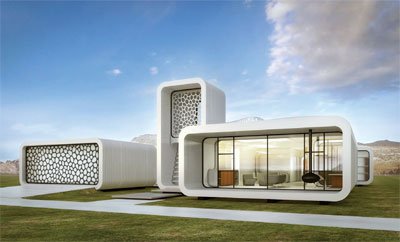 "We implement what we plan, and we pursue actions not theories. The rapidly changing world requires us to accelerate our pace of development, for history does not recognize our plans but our achievements," His Highness Sheikh Mohammed said while the opening of the 'Office of the Future', the first 3D-printed office in the world.
Consolidated Shipping Services Group got the opportunity to be a part of this novel venture. Being the only selected logistics partner, CSS was able to be associated with this landmark achievement initiated by the visionary leadership of Dubai. CSS moved the 3D walls on Open top containers from its origin in China to the destination in Dubai. Every moment of this movement was meticulously planned and executed by the professional team at CSS.
The 2,700-square-foot, single-story building was built in just 17 days using a gigantic, 20-foot tall 3D printer and a special mix of concrete, fiber reinforced plastic and glass fiber reinforced gypsum.
Although the "printer" was massive at about two stories tall, 120 feet long and 40 feet wide, it only needed one staffer to make sure it was functioning properly. The rest of the 18-person construction crew consisted of installers, electricians and mechanical engineers who completed the job for a mere $140,000 in construction and labor costs — or about half the price of a comparable structure built with conventional methods. Of course, the building is more than just another gold star in the UAE's ultramodern play land — it will also serve, appropriately enough, as the temporary headquarters for the Dubai Future Foundation. Next year, the structure is scheduled to become the home of Dubai's Museum of the Future.
"This is the first 3D-printed building in the world, and it's not just a building, it has fully functional offices and staff," the UAE Minister of Cabinet Affairs, Mohamed Al Gergawi said. According to Gergawi, Dubai plans to have 25 percent of the buildings in the emirate built via 3D printing by the year 2030.