Lighthouse - January, 2014.
A Facelift in Bahrain CSS Renovates its Office in Manama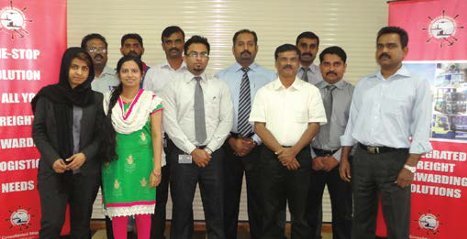 CSS Bahrain recently renovated their offices, located in the heart of Bahrain's capital, Manama. The new office boasts updated meeting rooms and interiors to keep up with the growing demand of their clients and agency partners alike.
stablished in 2002, CSS Bahrain has since rapidly increased its pace, starting as an NVOCC and spreading out its arms into the spectrum of Air & Sea freight, Land Transport & Projects handling within a short span of time, creating its own signature in each and every task it undertakes. It has grown to become a trusted partner and a market leader for the freight forwarding and logistics solution within a short period of time.
CSS Bahrain is located in the heart of Manama and operates a 10,000 Sq. Ft. of CFS facility, managed and operated by its own personnel within Mina Salmaan Port. This ensures successful handling of ocean freight containers coming in from various ports of the world. In addition, CSS Bahrain has recently added a customs bonded warehouse (1200 Sq.mt) in the Bahrain Logistics Zone, a customs-free logistics park in the Hidd Industrial area. Bahrain Logistics Zone is regulated by General Organization of Seaports, Bahrain.
"The new renovation of the CSS Bahrain offices is a testament to our commitment to our clients and partners alike. We have always been at par with advanced technology and ensuring that the needs of the customers are always met. The new renovation allows for smoother operation and can better handle the requirements of customers who visit our offices everyday," added Narayan RT, General Manager, CSS Bahrain.
With its hands on management team and highly experienced project professionals, CSS Bahrain has been offering integrated turnkey project forwarding solutions to worldwide destinations. Today, CSS Bahrain has what it takes to handle clients with global needs and provide solutions to enhance their businesses, building a fruitful partnership along the way.