Lighthouse - June, 2011.
A Rare Honour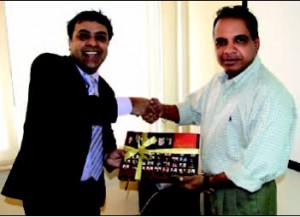 T.S. Kaladharan featured in the Book of Achievers

The contributions of top business leaders and professionals from Kerala in the GCC are being unfolded again by The Book of Achievers, a coffee table book, when it launched its second edition recently.
Selected numbers of 37 personalities are featured in this edition of Achievers. It contains the inspiring growth stories of dozens of visionaries, their insights on current economic scenarios and future market outlook. It narrates the pain-n-gain stories of a series of high net worth entrepreneurs who have brought in the remarkable facelift of the Gulf region with their service over the past several decades. T. S. Kaladharan, Chairman of CSS Group is one among the Achievers in this edition." The book identifies and honors accomplished business leaders and top professionals from Kerala based in the GCC countries, and I am extremely privileged to be a part of it" mentions Kala.
This volume will be made available through prominent libraries, chambers of commerce, business and professional organizations across India and the GCC as well as selected libraries in Europe and the US.
Publisher and Editor Biju Ninan said, "The book talks about their contribution to GCC economies and their native state, Kerala, India. It unfolds an untold story of select achievers, who made it big for themselves and for millions of others through their entrepreneurial excellence and hard work". This multi colour, 248-page hardbound book contains photographs of these Personalities and their families.
These achievers were handpicked by a special jury comprising of Isaac John, deputy business editor, Khaleej Times and senior businessman & philanthropist Dr. Ram Buxani based on factors like the number of jobs created by their respective companies, the positioning of their businesses and the soundness of their corporate citizenship (corporate social responsibility).
The coffee table book is conceived, designed and published by Grey Matter, FZ, LLC, a 360-degree media-consulting firm in Dubai, UAE.