Lighthouse - November, 2010.
A Smooth Take Off CSS Join Hands With Spatial Group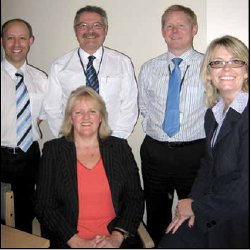 It has been widely recognised that 10.10.10 was a lucky date in the calendar, but it also became a significant date for The Spatial Group and CSS as the start of their partnership for the movement of cargo between the UAE and the UK.  CSS Air freight division Senior V P,  Ahmed Al Rais and its General Manager, Jacob Isaac  strongly believe that the association of both aggressive agents and focused drive of Airfreight consolidation ex UK with the Spatial Group would bring in long term mutual benefits to the companies and clients.
Wendy Hain, Managing Director of The Spatial Group and T.S. Kaladharan, Chairman of CSS signed the agreement in the CSS Dubai office.The Spatial Group who are celebrating their 30th year in business is owned by John Harvey CBE and Chairman of Keswick Enterprise Ltd. are delighted to be associated with CSS who have just celebrated their 15th year in business.
Wendy Hain commented that Spatial has been associated with the Middle East for 25 years and  looked forward to working with Kala and his team to develop the trade lane between the Gulf and the UK.