Lighthouse - July, 2013.
A Visit To CaroTrans New Jersey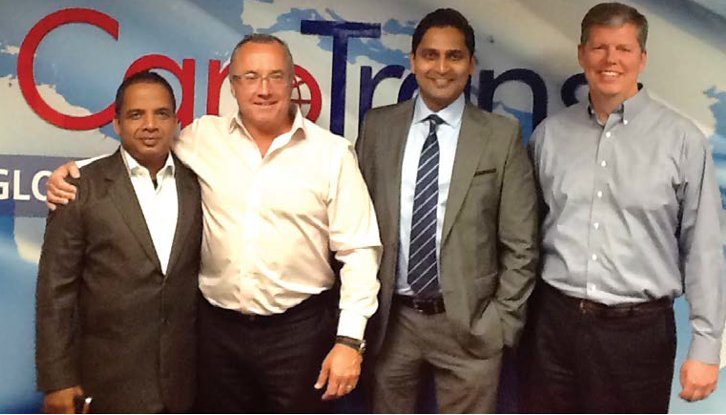 The Chairman of CSS Group T S Kaladharan along with Rosh Manoli, Route Development Manager-North America recently visited CaroTrans, the CSS Group's NVOCC partner at their head office in New Jersey, USA. During the course of their visit to CaroTrans offices, they conducted meetings with Greg Howard, Global CEO, Matt Spartz, VP Operations and Riyaz Jordan, Branch Manager and discussed new opportunities in the market and ways to further develop their relationship.

"In our industry it is important to meet our partners face-to-face to not only strengthen our relationship but also develop new and innovative ideas to better service our clients. The CaroTrans relationship allows CSS to tap into a global market while providing CaroTrans the insight it needs for this region, which is one of the fastest growing in the world. I would like to extend my thanks to the CaroTrans team who made us feel welcome during our time there," said TS Kaladharan.
With an increase in demand for value-added global import transportation services, CaroTrans, a leading global NVOCC, ocean freight consolidator and longstanding alliance partner to the CSS Group, is strategically expanding its import service operations and coverage in key trade lanes.  In the last twelve months, CaroTrans has expanded its global import service network in key global trade regions including: Asia, North and South America, Middle East and Europe.
"It was our pleasure to host the CSS Group in our U.S. headquarters in Clark, New Jersey and further develop our customer-focused business initiatives and personal relationships.  Since joining forces with CSS Group, we have seen our partnership grow from strength to strength.  The Middle East region has grown into one of our top 10 markets and continues its strong growth trend as we expand the cooperation throughout the area.  Our partnership with CSS has exceeded all expectations and we look forward to building on the solid foundation we've established with them," said Greg Howard.