Lighthouse - May, 2015.
A Visit to Jebel Ali
CH ROBINSON VISITS CSS GROUP FACILITIES IN JEBEL ALI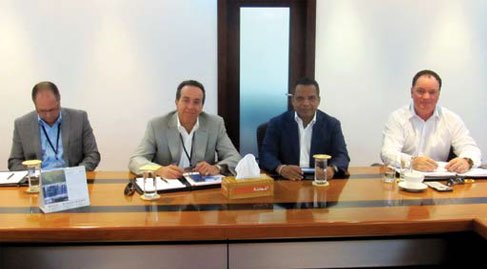 On an invitation from T S Kaladharan the Group Chairman of CSS, The President of Global forwarding of C.H. Robinson Worldwide, Mr. Stephane Rambaud and the Vice President Mr. Tom Sweet visited the CSS Group offices and facilities at the Jebel Ali Free Zone. They were received by the senior management team of CSS Group led by Raj George, Senior VP Projects Oil & Energy division. The CH Robison officials held discussions with the senior management team of CSS Group.
A day before this visit Stephane Rambaud & Tom Sweet attended the 20th anniversary celebrations of CSS Group which was held in Dubai. The anniversary celebrations consisted of a Golf event at the Dubai Creek Golf & Yacht Club on the 12th March and conference and gala dinner at the Hyatt Regency Dubai Creek Heights on the 13th March.
About C.H. Robinson
C. H. Robinson is a global provider of multimodal transportation services and logistics solutions, operating through a network of branch offices in North America, Europe, Asia, South America, Australia and the Middle East. They are a non-asset based transportation provider, who works with approximately 63,000 transportation companies worldwide. They also provide a wide range of value added logistics services, such as supply chain analysis, freight consolidation, core carrier program management, and information reporting.
Consolidated Shipping Group is proud to be associated with a global giant like C.H. Robinson in the freight forwarding business and keeps abreast this valuable partnership as a driving force to maintain quality services that they continuously provide to their customers.