Lighthouse - November, 2014.
Alleppey Ripples
FIGHTING THEIR 3RD KPL WITH LOT MANY EXPECTATIONS



Alleppey Ripples jointly owned by Kaddas interiors Abu Dhabi and Twin info solutions Pvt Ltd, India is entering its third KPL season. The team is owned by Arjun Bose, who is also the Director for CSS Abu Dhabi. Arjun holds stake in Kaddas Interiors and Twin Info as well.

The team is managed by Fida asghar, renowned cricketer who carries with him first class career experience in Indian Cricket.
Hareesh M Haridas a well known name in the cricketing circuit of UAE leads the team of Alleppey Ripples. Hareesh with his rich experience in domestic cricketing circuit is a well known bats man in the UAE.
As a team, Alleppey Ripples takes pride in having players who have rich experience and blasting career history, from India, Pakistan & UAE. The team has performed well in the last two seasons of KPL and had reached the semifinals.
Alleppey Ripples ownership has been over taken this year by two well known companies from their respective domains. Kaddas Interiors, Abu Dhabi is a renowned interior design and installation company. They have diversified interests in AV integration and automation as well. Kaddas Interiors renders their services for residential as well as commercial projects in the UAE region. The classy designs and innovative concepts have made Kaddas a preferred name in interior design world.
Twin info solutions Pvt Ltd. the co-owner of Alleppey Ripples, is an Indian bases IT & ITES company. Twin also extends their services in the BPO activities of Shipping & Logistics companies. "FINS", a very popular  ERP solution amongst shipping companies is owned by Twin Info, and is being used by Shipping and logistics companies' worldwide. A company driven by professionals, Twin has in store many more IT solutions to offer.
MANAGEMENT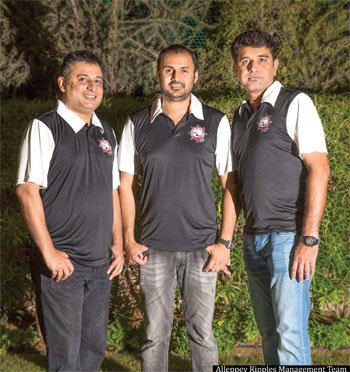 Fida Asghar (Manager)
A wonderful cricketer who had played in the first class cricket, Fida, by nature, takes cricket to his heart. The manager's role is safe in his hands. Fida Asghar represented Kerala state for Under 17, 19, 21, 23 and seniors. He played first class cricket representing Kerala state for the Ranji trophy tournament from 1990-93. Fida never missed the opportunity to represent MG university team during the period, 1988-90. Fida is a Right hand batsman and a wonderful Wicket keeper
Arjun Bose (Team Owner)
Arjun Bose is the owner of Alleppey Ripples. An ardent cricket lover and player, Arjun plays an inspirational role amongst the Alleppey ripples team. A stake holder of Kaddas Interiors and Twin Info, Arjun plays a bigger role of being the Director of CSS Abu Dhabi. Despite his busy business schedule, he always finds time to be with and inspire the team of Alleppey ripples whenever he is in Dubai. The astonishing performance of the team took them to semifinals in the first two seasons of KPL and Arjun believes that this time his team will lift the trophy for sure.
Hareesh M Haridas (Captain)
A well known name in the cricketing community of UAE, Hareesh had represented Kerala under- 21 to under 23 squad from the year 1993 to 1996. Hareesh is a highly talented batsman who can change the game any time. He has played for Tellicherry Cricket Club & Team CSS in UAE for almost all the Domestics A and B Division tournaments and in various formats. He believe that his boys could return home with the coveted KPL trophy this time and they do deserve now.