Lighthouse - March, 2018.
ANOTHER FEATHER IN THE CAP
CSS COMPLETES PROJECTS MOVE BEFORE THE TIME COMMITTED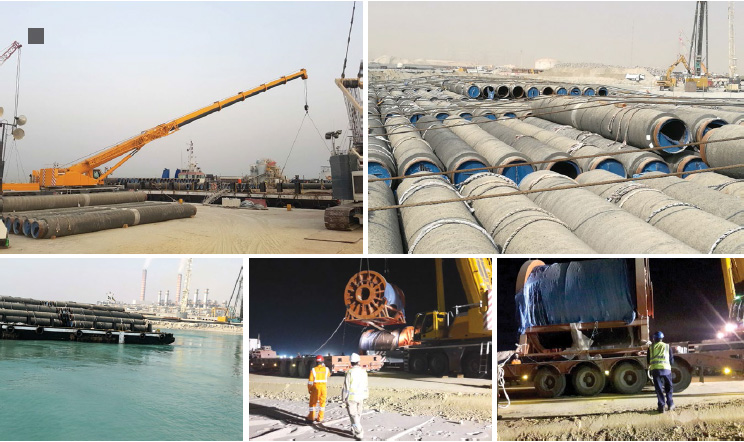 An extraordinary feeling was evident on the faces of the Projects team of CSS, when they received the letter of appreciation from the client, for successfully completing a major project movement for the HSS Consortium Al- Zour refinery project, before the time committed. Of course, that was not the first instance though.
Ahmed Fuad and his team had spent 87 harsh days with utmost perseverance for moving 70,000 tonnes of coated pipes, of both 10 and 30 inches, and 4 cable drums of 85 tonnes each. "It was particularly pleasing for me and my team to see the customer benefitting from joining hands with CSS Group. It was a testing time again for my team yet a great example of the level of service CSS is able to deliver for our clients when it comes to challenging projects" mentioned Ahmed Fuad, Senior Business Development Manager, Projects Oil & Energy division, CSS Group.
The movement of the cargo started from the storage area to a private boat jetty. The scope of the work included, loading, transportation and offloading on to the barges. The cargo was then fastened on to the barges which demanded high level of technical skills. Altogether there were 16 barges on duty for carrying the cargo to the destination in Kuwait. The usual pre-move surveys, and technical testing were done by the survey team of the Projects department. The expected time of projects completion was 100 days which was committed before the move to the client, however, CSS could successfully cross the finishing line in 87 days.
"Our team brought in another accolade by successfully displaying exemplary skills and exceeding the client satisfaction. Each project gives us a chance to add a new lesson to our experience. This project was an example of how dedication and commitment can add value to the jobs undertaken." Commented Raj George, Senior Vice President, Projects Oil & Energy division, CSS Group.