Lighthouse - June, 2011.
Attendance At 2011 Breakbulk Europe Conference Jumps 30 Percent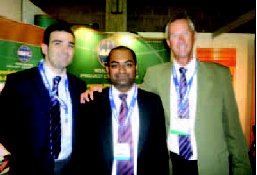 Signaling a strong return to business growth, UBM Global Trade's 6th Annual Breakbulk Europe Transportation Conference & Exhibition posted a record turnout of 4,343 attendees and 190 exhibitors, reflecting respective increases of 40 percent and 28 percent over the previous year.
Held May 17th-19th at the Antwerp Expo Centre in Antwerp, Belgium, the conference program showcased industry leaders and noted analysts over two days of discussions, which addressed the multipurpose fleet, combating the scourge of piracy, the changing emphasis on short sea shipping, infrastructure developments in India, the status of Middle East and North Africa projects, and energy generation prospects.
"Keynote speakers over the two days highlighted 'Energy Outlook' and delivered captivating views for the growing risks of oil shock, as well as detailed forecasts for the production of natural gas, offshore oil and gas, and green energy," said Siby C Kurian, General Manager Sales & Marketing who represented CSS at the Breakbulk Conference & Exhibition. "We were able to learn where major growth is under way and what factors are impacting these markets."
Breakbulk Europe is one of three major conferences and exhibitions organized annually by UBM Global Trade's Breakbulk division. From February 28-March 1, 2012, the first Breakbulk China Conference and Exhibition is scheduled to be held in Shanghai. The event is an alternate to the successful Breakbulk Asia Transportation Conference & Exhibition that has been held in Singapore for the past three years. Breakbulk Americas, held alternately each year in Houston and New Orleans, is the original Breakbulk event that has been held continuously for the past 21 years. CSS Group will be exhibiting at the Breakbulk Americas Conference & Exhibition, booth # 845, stay tuned to www.cssgroupsite.com for more details!