Lighthouse - September, 2013.
Booming With Developments
LNG TERMINAL AT KOCHI READY FOR OPERATIONS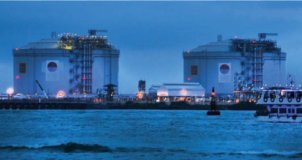 Petronet LNG Ltd, the country's largest importer of liquid gas, has received its maiden cargo at its recently constructed Kochi import terminal in Kerala on August 2013.  The vessel, "Wilenergy," carrying around 1 lakh cubic metres of LNG in its liquid form (liquefied natural gas or LNG) arrived from RasGas in Qatar.
With this, the Rs 4,200-crore terminal would be ready for operations.
The Kochi terminal, however, will operate at just 8 per cent of its capacity in the first year of operation as pipelines taking gas to customers in Karnataka and Tamil Nadu are not ready, they said, adding that the company plans to import 2 cargoes or shiploads of LNG at the terminal this year.
In year-2, the terminal is expected to operate at 75 percent capacity when the pipeline connecting Kochi to Mangalore and Bangalore are built. Also, state-owned GAIL is planning to connect this pipeline to Chennai.
Kochi terminal is currently being connected to two main customers — Bharat Petroleum's Kochi refinery and the Fertilizers and Chemicals Travancore Limited (FACT), which are in the process of converting their facilities to run on natural gas.
At least 70 per cent of the total capacity, or 3.5 million tons a year, is required for the terminal to function at minimum optimum efficiency.