Lighthouse - March, 2016.
Bowie Changes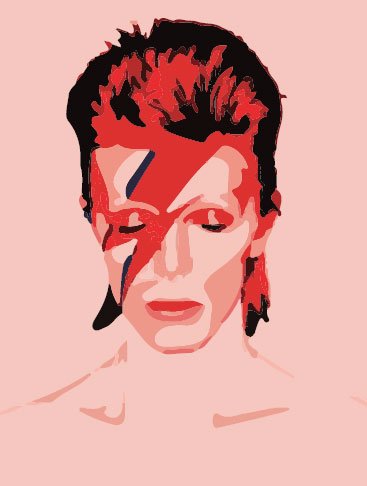 Being brought-up in England, as a youngster in the 60's, meant one thing to an impressionable youngster and that was seeing David Bowie performing 'Space Oddity' on BBC TV Top Of The Pops programme. Bowie's appearance seemed as far out as it was possible to be. Back then there was no way to record television so you could watch it later. Any one appearing had to make an immediate and lasting impact. Bowie's first TV performance is still vividly lodged in viewers' minds. This underscores his ability to command a following of fans, throughout a 60 year career, that may be credited to two main characteristics.
Coming from a working class back ground, Bowie provided an inspiration to many which is attributed to the fact that music leaps across all boundaries. Whatever your cultural, social, ethnic or economic background music is a universal means of communication. It mattered not that he was born in Brixton, south London. His mother – a waitress, and his father – a promotions officer, were unmarried at the time. What became more important was his reputation, which started to grow from when he attended Stockwell Infants School. Leaving, at the age of six, his reports said he was a gifted and single-minded child as well as being a defiant brawler!  Bowie was already displaying his first main characteristic that was to be so influential throughout his life. It was a determination to stand-up, defend and promote your own belief in yourself.
It became obvious, with his music, that he was saying that it was okay to be different. Just think how many people are ridiculed because they dare to be different? Bowie realised that standing out from the crowd helps others to recognise you and your brand. The more people know of you the better your chances of success. The difficulty, for those involved with creative people, is spotting potential and giving it room to develop. Too often creativity is smothered by the urge of others to conform. Being told to "act your age" is a response from those who just want to follow the rules. It is one of those truisms that winners never do what others do. That's why they win!
Bowie's second main characteristic demonstrated the benefits of adapting and evolving. At the age of nine, his junior school introduced innovative music and dance movement classes. His teachers described him as being strikingly imaginative and vividly artistic with a poise that was astonishing for someone of his age. Around this time his interest in music was further aroused when his father brought home some American records by artistes including Elvis Presley, Little Richard and Fats Domino. In interviews, later on in his career, Bowie expressed how much this had influenced him. So several years, groups, styles and management changes later; in 1969 "Space Oddity" was born. This record proved to be a quintessential start to Bowie's illustrious career which saw him transform his image and music style to ones including Ziggy Stardust, The Thin White Duke, Pierrot, The Regular Dude and finally The Black Star. Over the years Bowie moved from persona to persona, with ease, creating an every changing fascinating image. This sounds easy but the clever part is staying in touch with your audience and being ahead of what they want. Sometimes changes happen because of what happens around us but Bowie seemed aware of this. Many of his fans will have treasured memories of events that influenced their lives. Even a concert ticket gives a chance to say "We were there" but importantly to remember that to succeed and survive we perhaps need to embrace Bowie's motivational spirit.  His fans have enjoyed the merry dance on which David Bowie led us throughout his career. By grasping a belief in oneself and awareness for change we may achieve similar lasting success in our business adventures.  As Bowie sang early on in his career: –
Ch-ch-ch-ch-Changes, I said that time may change me!