Lighthouse - July, 2015.
Breakbulk Europe Expo 2015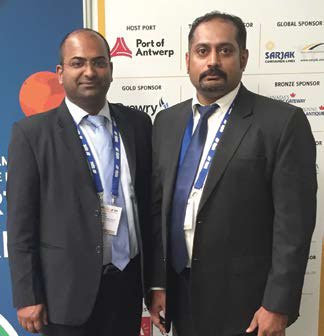 The recently concluded Breakbulk Europe expo 2015 in Antwerp could be seen as the continent's largest exhibition designed for the Breakbulk and project cargo industry. Celebrating the event's 10th anniversary, attendees benefitted from unparalleled networking opportunities with project cargo owners, freight forwarders and transportation specialists. The four-day event offered industry workshops, a conference featuring leading Breakbulk and project cargo experts and an exhibition showcasing a range of both international and European companies.
CSS Group was a participant at the event, attending the conference and exhibition. The company was represented by Siby C Kurian, Senior General Manager, Sales & Marketing CSS Group and Narayan R T, General Manager CSS Bahrain.
"Breakbulk Europe 2015 was an extremely interactive and an engaging exhibition, which is why it is rated as one the most sought after exhibitions amongst Breakbulk cargo logisticians. This year was no different with excellent networking opportunities, an increase in participation from last year and more importantly more business opportunities were created with existing and new partners within the fraternity of shipping and logistics", Commented Siby C Kurian.
Breakbulk Europe 2015 celebrated 10 years of success as the top event designed for the Breakbulk and project cargo industry. Bringing together EPCs, ports, forwarders, transporters and other cargo specialists and industry experts, the event proved to be worthwhile for Breakbulk and project cargo logisticians. Spread across four halls, the exhibition offered a multitude of networking opportunities, two days of executive presentations focused on Europe's economic and transport issues and workshops for those seeking to build their professional skills.
"This year's Breakbulk, as always provided an excellent platform to network and meet other industry partners and share concerns and ideas. The increasing number of participants every year is an obvious example of how industry experts are keen on this exhibition. Breakbulk cargo movement is an exciting and growing sector and the conference enabled us to meet new members and to understand new concepts", mentioned Narayan R. T.
The exhibition started on the 18th May concluded on the 21st witnessing so much interaction and exchange of ideas amongst the participants.