Lighthouse - November, 2012.
Building Trust
Holship Group Visits CSS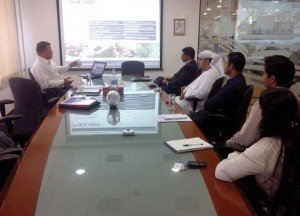 As part of its partnership with CSS Group, Michael Ranners, Director Business Development from the HOLSHIP Group & Global transport , in Scandinavia, recently conducted a  familiarization tour of the CSS Group UAE operations.
During the course of his visit, Ranners met with members of CSS Senior Management in the various business divisions across the United Arab Emirates along with their facilities. In addition, members of the CSS Group showcased key presentations highlighting areas of mutual interest, with a key focus on freight forwarding for both parties to continually develop between the Middle East and the Scandinavian countries.
Holship, like CSS offers various modes of transport such as road, sea and airfreight services to and from all the world's destinations. They also offer warehousing, quality control, labelling, handling of customs formalities, certificate applications, bonded warehousing and distribution as part of total logistic solutions. At Holship they have a group of experts controlling and minimizing logistics expenses and maximizing efficiency when it comes to import and export to and from the Nordic Region. They focus on delivery quality and a personal contact between customers and their network partner offices.
CSS VP of Business Development, Ken Dinnadge said, "Holship is a perfect fit for the CSS Group as both companies DNA is very similar. There is a major focus on competitive services from Scandinavia which also better positions CSS to offer this market yet another trade lane sector solution whether by sea air or different modes of transport again benefiting this region.
This is part of our continuous drive and initiatives to identify and work with quality partners as well enable the CSS Group to have a reliable professional global foot print, so that we are ideally positioned to offer a multitude of services to and from any global destination."
Michael Ranners, Director Business Development, Holship Group commented, "The Holship group throughout the years has built a network of experienced and trustworthy agents globally.  The CSS relationship is exactly what we are looking for in this region. CSS is a very similar company to Holship where staff is like family members and that shines through in the operation of the company. All in all this is a perfect fit for Holship."
History of Holship
HOLSHIP was founded in 1967 under the name Holbæk Shipping & Spedition. The main focus was stevedoring and road freight. Seven years later Kent Ranners began his shipping agent career in the company. In 1985 Kent Ranners took over the company and paved the way for an international approach to the market situation. Soon the name HOLSHIP was announced. 'Global transport – local service' is the motto for the re-named company. In 1994 a new era began with offices in the UK, Norway, Sweden and Finland and with the development of complementary services like warehousing and other third-party logistics solutions.
1967    Holbæk Shipping & Spedition was established.
Stevedoring and truck service was the main part of the business.
1976    Kent Ranners started in Holbæk Shipping & Spedition
1985    Kent Ranners took over Holbæk Shipping & Spedition.
1990    An international name is essential now, while trading with the US and    the Far East is growing rapidly. Therefore Holbæk Shipping & Spedition  changes the name to HOLSHIP.
1994    HOLSHIP UK was established in order to provide truck service between Denmark and England.
1996    HOLSHIP Norge was established.
1999    HOLSHIP Sverige was established.
2000    C.R. HOLSHIP was established in Køge as a result of the fusion of CR     Shipping and HOLSHIP
2001    HOLSHIP Finland was established and situated in Helsinki Airport.
2005     The HOLSHIP Group focused on the Scandinavian market and closed down HOLSHIP UK.