Breakbulk Europe is the largest exhibition & educational forum in the world addressing the needs of traditional Breakbulk and project cargo logistics professionals.  Breakbulk also serves as an excellent networking platform for shipping and logistics professionals and has also played host to the formation of agreements and identification of new agents for participating companies.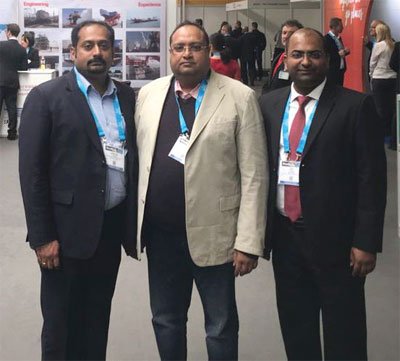 At Antwerp, CSS Participated as trade visitors this time and held important meetings and discussions with key Breakbulk players. The exhibition was held from 23rd to 26th May this year. CSS Group was represented by Raj George Sr. Vice President Projects, Oil & Energy, Siby C Kurian Vice President Sales & Marketing and Narayan R T General Manager CSS Bahrain.
"Breakbulk Europe is certainly an important event for CSS and we never miss that, as it is the ideal venue for CSS to identify potential clients, gain a deeper understanding of international market trends in specialized fields, and more importantly create avenues for new business opportunities within all our sectors," said Raj George.
Since 2009, CSS Group has participated in numerous Breakbulk Exhibitions held around the globe including Singapore, China, North and South America and Europe. Participating in key exhibitions such as Breakbulk provides CSS Group the platform on which they can showcase the vast majority of the services they offer to potential customers and clients within this booming sector.
"This Breakbulk was an extremely interactive and an engaging exhibition, which is why it is rated as one the most vital exhibitions in the shipping and logistics list of events.  We had excellent networking opportunities as well at Antwerp," mentioned Siby Kurian.
As part of its contribution to the shipping and logistics industry, Breakbulk Europe also provides educational seminars to its participants that cover key topics which are pertinent to the industry that has an ever changing business landscape due to regulatory rules, advances in technology etc.  In the Breakbulk Europe 2016, participants had the chance to learn about the current business challenges & opportunities facing shippers within the traditional Breakbulk, heavy-lift and project cargo markets.
"Breakbulk exhibition and the entire event grow every year with the number of participants that it attracts. Also energy and enthusiasm was seen all around the European trade in Shipping and Logistics. We too can be confident and expect that an upward graph is not too far away," commented Narayan R T.
This year was no different with excellent networking events, an increase in participation from last year. As per the official records more than 7200 participants attended the exhibition in the year 2015 and the number could be even more this year.