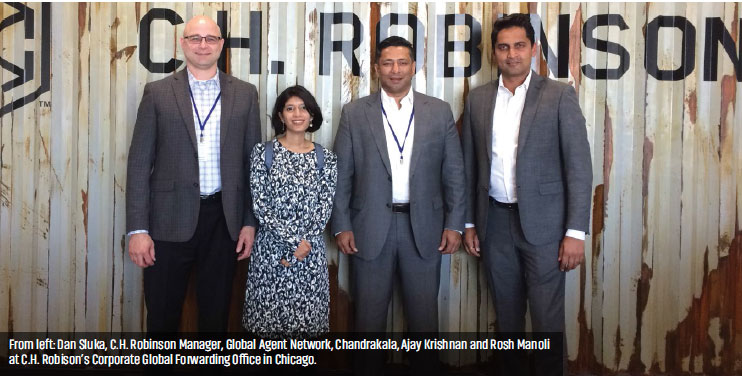 CSS GROUP VISITS C.H. ROBINSON, USA
A Strategic Sales Campaign initiative by the CSS Group saw a team visiting C.H. Robinson offices in the USA. The CSS Group are exclusive agents for C.H. Robinson across the Middle East and the trip was primarily to boost trade growth and cement working relationships between the two organizations. The CSS Group team comprising of Ajay Krishnan, COO Freight Forwarding, Chandrakala, COO NVOCC/Ocean Freight Operations, and Rosh Manoli, Deputy General Manager Sales, visited C.H. Robinson offices at Los Angeles, Atlanta and New York, as well as the C.H. Robinson Global Forwarding Corporate Office in Chicago. The visit concluded with commitments to grow the already significant USA/Middle East traffic, as well as discussions specific to product development and compliance.
"The relationship with C.H. Robinson has been a growing one. We believe there is an opportunity to take this to the next level, implementing the strategy we discussed during our visit. A robust and growing relationship (while remaining an effective and compliant trade lane) is our objective here." mentioned Ajay Krishnan.
"The relationship between C.H. Robinson and the CSS Group continues to be very strong. We are excited about the new business development initiatives and continued growth together," commented Matt McInerney, C.H. Robinson VP Global Forwarding Sales.
"It was a great visit to C.H. Robinson in the USA. I would like to thank Mr. Dan Sluka and the C.H. Robinson team for organizing the meetings," mentioned Chandrakala.
About CSS Group
Consolidated Shipping Group (CSS Group) provides end to end cargo and logistics solutions through their 28 offices present in the Middle East and South Asia. CSS Group today is one of the leading integrated freight forwarding solutions provider, with close to 25 years of experience in the industry.
About C.H.Robinson
C.H. Robinson is one of the world's largest third-party logistics providers and provides a broad portfolio of logistics and transportation services, fresh produce sourcing and Managed Services. From surface to ocean to air, C.H. Robinson uses the strength of their global network and the visibility provided by Navisphere®, their global technology platform, to integrate supply chains, end to end.