Christmas Celebrations
January, 2020


Ho Ho Ho…. Jingle all the way! Celebrations are the best time for employees and members of staff involved in interacting more with each other, thus improving teamwork within the organization. Just like in past years, the CSS group has taken this opportunity to celebrate Christmas and hence tightens the bonds between the employers. Celebrations at our office with our staffs were truly reminded us that we are one family. And yes, CSS Group can't miss a single festival to celebrate. So, here how CSS Group Celebrated Christmas.
Though celebrations at CSS group is always a moment to cherish forever, we have planned something bigger this time with new ideas to make Christmas celebrations very much interesting and interactive.
We have week long celebrations from 15th -22nd of December at our Headquarters (Jebel Ali) and winners were given prizes. We started our day with Christmas tree and office decoration. Which made our office environment turns naturally into the Sparkling mode. Celebration, gifts, games, carol songs and the potluck lunch with around 30 dishes from starters to desserts. We have conducted a grand tea party for our Logistics staff on the 19th of December, who has decorated the Warehouse beautifully. It was a memorable Christmas celebration for all of us. Our chairman reminds us that Christmas will always be as long as we stand heart to heart and hand in hand. As the sky takes on shades of orange, we do not even realize the time and our Christmas celebration at the office were ended with lots of goodies and smile on the face and yes, at the end of celebrations it was full positives. We Wishing you all a Merry Christmas & Happy New Year. Hope this New Year comes with healthily, wealthily and wisely. We will honor Christmas in our hearts, and try to keep it all the year.



THE FIVE-DAY EVENT TOOK PLACE AT THE CSS GROUP JAFZA OFFICE FROM THE 17TH TO THE 21ST OF DECEMBER, 2017
21st December, 2017: The CSS Group's office in JAFZA, Jebel Ali, UAE held a week full of short games every morning, getting our valuable resources an alternative start to their day. The CSS Group is big on getting their employees and members of staff involved in interacting more with each other, thus improving team work within the organization.
The week started off with Untangling Christmas Lights in under two minutes on the 17th of December, 2017 – winner being Sami Liju from CSS HQ.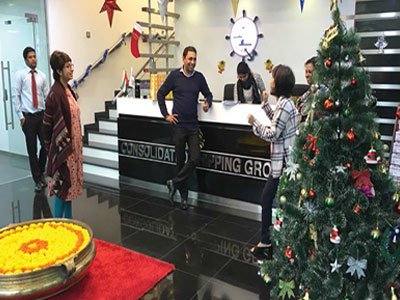 The CSS Group proceeded to play a Christmas-themed Jenga, with the winner being Anjali Krishnan from CSLC 1, on the 18th of December, 2017. Rules of Engagements – from anywhere between confessions, singing Christmas songs until the next person's turn and more! Guess the Object was played on the 19th of December, 2017 with players being blindfolded. The winner of this game being Fazeena Mohammed from CSS HQ.
An epic game of Holiday Greetings Pictionary – with four teams of 3 – was held the next day, winners being Jackie Leano, Archa Bitto and Fathima Sidhique from CSLC 1. The week-long game ender on the 21st of December, had 'Pick Christmas Ornaments with Chopsticks', winner being our very own Sabu from the CSS Group Support Staff in CSLC 1.
The CSS Group's Marketing division hosting these games, as well as the amazing Happy Holidays Committee, was incredibly proud of the turn-out and hopes next year will be as equally exciting!





More on the 21st of December, 2017:
The CSS Group held their Annual Christmas High Tea with members of the CFS team later that day. Cakes and decorations adorned the CFS warehouse at JAFZA, Jebel Ali with the Chairman, T.S. Kaladharan giving a brief speech, followed by distribution of amazing Holiday Greeting's edibles.
CSS GROUP'S HQ IN DUBAI HOLDS ITS YEARLY CHRISTMAS EVE LUNCH FOR STAFF AND EMPLOYEES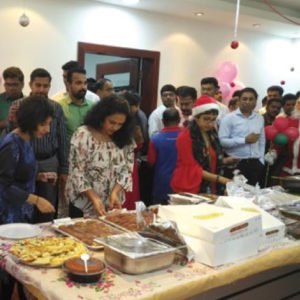 24th December, 2017: The CSS Group's HQ in JAFZA, Dubai, UAE bustled with excitement as food, drinks and year-end decorations adorned the CSLC 1 Conference Room.
Nearly 100 CSS staff members attended the themed Season's Greetings Potluck spread, where each guest contributes a different and unique dish of food, often homemade, to be shared. The plethora of items on the menu ranged from Spatchcock Chicken, to Chicken 65, to Baskin Robbins ice cream for dessert.
The CSS Director of NVOCC – ChandraKala – commenced celebrations with a toast to all attending, looking forward to the future of the organization, and expressing appreciation for the CSS Christmas Committee and the CSS Marketing division's support.
On behalf of the entire CSS Group, we wish you a Merry Christmas, Happy Holidays and Happy New Year!