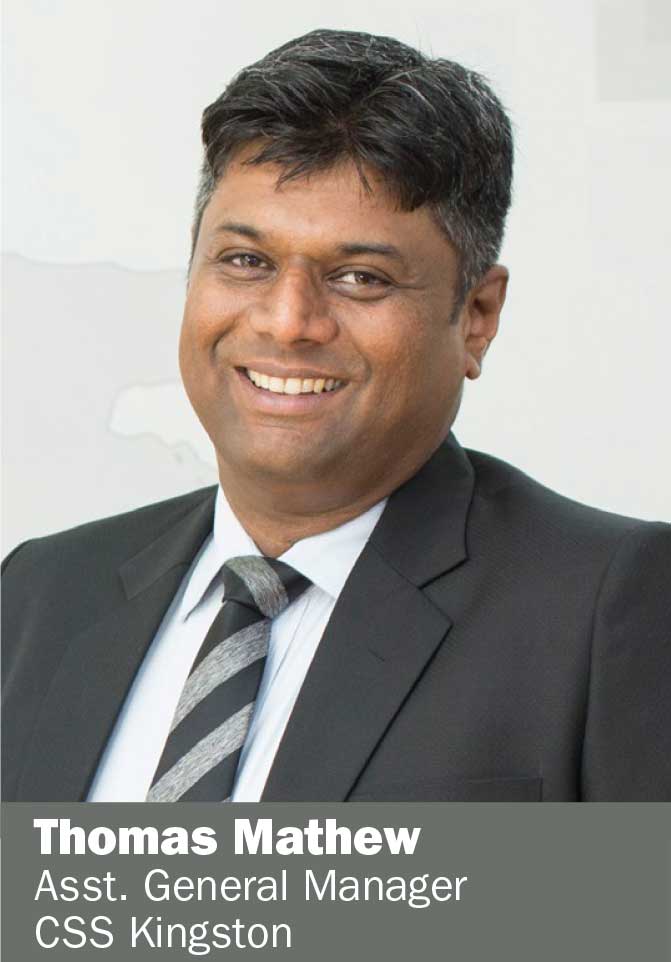 I stepped on Dubai soil in 2004, and I was lucky to land a job as a sales coordinator with CSS. It was indeed a steep learning curve as I did not have any experience in freight forwarding. However, with the support extended by my seniors and departmental heads, I quickly learned the ropes.  
I moved into sales and then into Key Account Executive's role and was further promoted as Manager – Key Information Desk. 
Today, I handle the responsibility of overseeing the CSS Kingston's SAIF Zone Branch and Hamriyah Freezone Branch
CSS Kingston 
CSS Kingston Logistics (CKL) was opened predominantly to tap into the freight forwarding and 3PL opportunity in the northern emirates of the UAE. We have further extended our reach to Hamriyah FZC with our freight forwarding and 3PL services. 
With a total capacity of 110,000 sq. ft covered facility, we can store approximately 13500.00 cbm. We also have an 8000 sq. m open yard facility.
Riding the wave in 2020
No one predicted that a pandemic would have the world reeling under its aftermath. CKL made it an opportunity to expand by helping our customers cut their operational expenses by utilizing our service and expertise.  
Tapping into Opportunity
CKL intends to capitalize on the opportunity based on the current market situation. By expanding our reach to each customer, we can help them cut costs by partnering with CSS Kingston. 
The next on the books is to expand our presence with more branches in northern emirates like Fujairah, Ajman, Ras al-Khaimah, and Umm al-Qaiwain. Enlarging our footprint across the northern emirates will enable our customer base to reach all UAE parts. This will support our customers to expand their reach with our cost-effective offerings with high levels of service.
With an increased requirement of 3PL opportunities in the SAIF zone, we foresee CKL emerging as a brand name to reckon within, especially at strategic locations in northern emirates. 
CSS – Unlike Any Other 
The values and the culture that CSS inculcates is what sets it a notch above the other players in the industry. At CSS, we care for each other, identify talent by enabling people to grow. With a focus and clear vision to achieve the highest level of customer satisfaction, we have provided cutting-edge yet cost-effective logistic solutions.
Our customers are our greatest assets, and this is the maxim that drives each employee at CSS. As we increase our assets, we keep growing