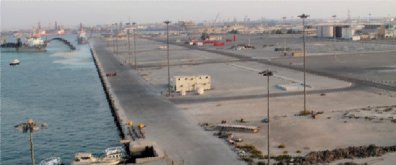 DP World is integral to the economic development and the progress of Dubai and the UAE. We continue to position Jebel Ali Port as the gateway port of choice to handle cargo destined for the Middle East, India and Africa regions.
In 2011, we saw a 12 percent YOY increase in volume with a record throughput of 13 million TEU.  The port has unparalleled connectivity with over 170 shipping lines, 98 weekly services to over 115 direct ports of call and delivers our customers a high level of efficiency.
As the largest and busiest container port in the region, Jebel Ali port is the preferred port of call for major global ship operators, who continue to order ultra large container ships (ULCS) in line with current liner trends.
We embarked on the expansion of our current Terminal 2 as well as the development of new Terminal 3. Work commenced on Terminal 2 in February this year, scope of this expansion is to extend the quay by   400 m; this would increase quay length in Terminal 2 from 2.6 kms to 3 kms (an additional of 400 m) which will take the container handling capacity at Terminal 2, from five million TEU to six million TEU by May 2013.
With this, Terminal 2 will be able to consecutively handle seven of the largest container ships currently sailing the ocean.
As it stands today, progress had been made to demolish the existing breakwater, piling or foundation works for both STS* and RMG** are currently underway. The Quay wall work is ahead of schedule and over 80 percent of the underwater blocks are already in position.
DP World has also embarked on building a new container terminal at Jebel Ali Port – Terminal 3.
Terminal 3 will be one of the finest modern marine terminals in the world with a quay length of 1,860 metres, a draught of 17 metres, and a 70 hectare storage yard.  When operations commence at the new terminal in 2014, total capacity at Jebel Ali will reach 19 million TEU.
The infrastructure at the new terminal will include the deepening of the channel depth to accommodate the next generation of container ships with a capacity of 18,000 TEU.
DP World, UAE Region has already signed agreements with local and international companies for the supply of 19 Ship to Shore (STS) quay cranes and 50 Rail Mounted Gantry (RMG) cranes for this development. These quayside and gantry cranes will be equipped with sophisticated technology and are designed to deliver peak productivity and efficiency for our shipping lines.
DP World is the third largest marine terminal operator in the world, with 10% of the world market share in container handling.  We remain committed to continuing to meet the needs of the region's growing markets and will continue to invest in line with market demands. Our expansion plans will further strengthen Flagship facility, Jebel Ali Port's position as the most efficient and modern gateway for cargo in the region and enhance its role as an economic growth engine.