CSS PROJECTS TEAM MOVE MI-8 CHOPPER TO ITS DESTINATION
It was yet another feather on the cap of the CSS Dubai team when they successfully executed the shipment of Mi- 8 chopper from the Middle East to South America, recently. The whole process of transportation was done for the Mi-8 helicopter using modes of transport, which included Air, Land and Sea to get it to its final destination in South America. Mi-8 helicopters are medium twin-turbine helicopters with capabilities of passenger transportation and was airlifted from the origin point in the Middle East to DWC Airport via IL-76 aircraft. The fuselage and the tail rotor were dismantled and loaded on the aircraft using the onboard cranes and offloaded the same way once the aircraft arrived at DWC Airport.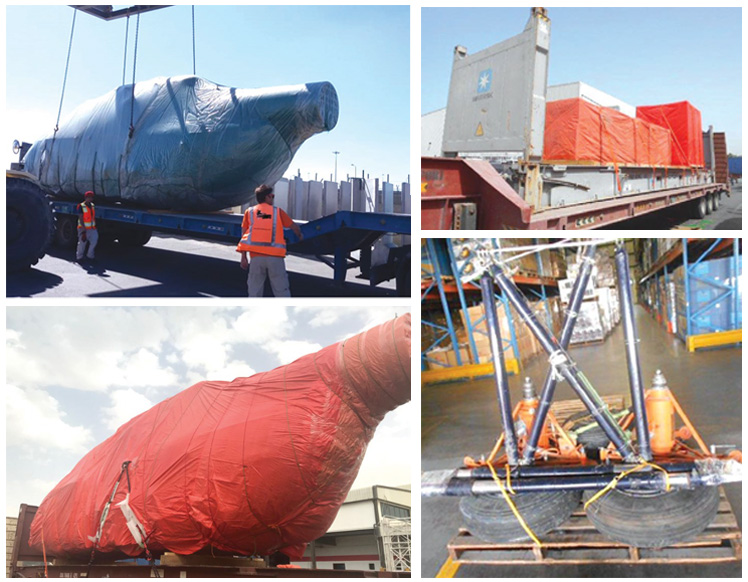 "It was a meticulously planned and executed project from our side, and high expertise is needed for such movements. Every point of the move has to be carefully studied before preparing the blue print. Our prior experience mattered a lot in the successful execution of this job. Thanks to the team who took part in this job" Commented Anita Jaikrishnan, Manager, Special Projects.
Once the fuselage and its dismantled parts were loaded on low bed trucks, it made its way to the CFS of CSS in Jebel Ali. The CSS crew was ready with all of the necessary equipment to cross load the unit onto a 40' Flat Rack and other gear for the different parts of the helicopter, viz, the rotor blades, engines etc. The unit was then loaded onto a 40' Flat Rack, after which, the professional lashing team got to work, securing the unit with belts and chains before finally giving it a proper wrapping with a reinforced tarpaulin before sending it off to the port.