CSS Saudi Arabia
With the recent addition of Faisal R as the Co-Director of CSS Kingdom of Saudi Arabia, the Lighthouse editorial team sat down to gain insight into his past experience, opinions and more.
By Minaal Pervaiz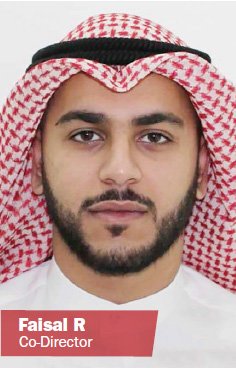 How did you first get involved in the Shipping, Liner and Logistics industry?
I have been involved in the field for quite a long time. I grew up in close contact to everything shipping related and became more interested when I began to consider my further studies.
Tell us how you joined the CSS KSA branch. Why did you want this job?
I joined CSS KSA because of my interest and experience with [the CSS Group]. I knew that with the knowledge I acquired whilst pursuing my career, plus the experience I have accumulated throughout the years, it would be my next best step.
With your recent addition as a Co-Director (working alongside Britto Satheesh) of CSS KSA, what does this mean for the portfolio you will be managing?
We will be taking CSS KSA further, representing a big challenge that I am looking forward to.
How would you handle failure?
I can best describe how I see failure through the words from Thomas A Edison: "I have not failed. I have found 10,000 ways it will not work." These words have followed me since my upbringing and are something that best describe our way of working in the logistics world.
What do you enjoy most about working at CSS KSA?
I am excited – it is a good opportunity to work with people from all over the world and share ideas to constantly bring innovation within the company.
What do you think the current state of affairs are in the industry and possible predictions?
The current state of affairs is positive because of the 2020 and 2030 vision. Also, business will be improving because of all these new projects across Saudi Arabia right now.
What motivates YOU?
An ambition to grow and make an impact in the industry. Legacy and the passing of knowledge are factors of motivation in my everyday life, and are my driving forces to always want to become bigger and better at what I do.
HaskoningDHV UK and Hyundai Engineering & Construction have been selected to perform the Front-End Engineering Design (FEED) for the infrastructure of a new maritime yard in Ras Al-Khair in Saudi Arabia.
The maritime yard will comprise a separate shipyard facility for large shipbuilding, large ship repair, offshore rigs fabrication, and offshore support vessel repair. As planned, this facility will become the largest maritime yard in the world providing a range of services. It will be located north of Jubail on the Arabian Gulf. Royal HaskoningDHV's specialist shipyard consultancy experience combined with Hyundai E&C's track record in Engineering-Procurement-Construction (EPC) projects will provide comprehensive technical knowledge for all elements of the shipyard's design.
Adrian Arnold, project director at Royal HaskoningDHV said: "Maritime yards must be globally competitive with facilities which are cost-effective, operationally flexible, and durable. This project combines four different yards into a single development, creating significant opportunities for economies of scale and enhancing the country's economic development."
The maritime yard will have an impressive range of facilities including seven fully-equipped dry docks, two basins and five piers, a shiplift system, workshops, warehouses, utility services areas, as well as office buildings, living quarters, and recreational facilities for more than 10,000 workers.
Royal HaskoningDHV undertook the initial market study for the maritime yard in 2014. The FEED development work is now scheduled to take five months.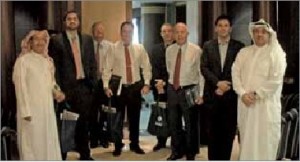 Phoenix International, Francois Wolberg, Business Development Manager, Global Textile Logistics and Brandon Joiner, Sales Executive (Atlanta) traveled to CSS Saudi Arabia and CSS UAE offices last November to visit the newly appointed partners, CSS Group in the Middle East.
The first stop was in Riyadh where they spent three days with Ramzi Al-Dulijan (Managing Director, CSS Saudi Arabia) and his team. Together they visited important customers that Phoenix handles in their Atlanta branch. "We found that CSS Saudi Arabia is a dynamic team and willing to help and support our activity," added Brandon Joiner, Sales Executive (Atlanta).
The second stop was CSS headquarters in Dubai, where they met with CSS delegation including Ken Dinnadge (VP, Business Development, CSS), Roshmon Manoli, Route Development Manager, North America and Kaveen Amarasinghe,  Sales Executive.
Brandon, Francois and the entire CSS team visited several customers in Dubai and Abu Dhabi, and had an opportunity to develop sales and learnt the art of collaborating and sharing information in order to close new deals.
"Globally we have been very impressed by CSS, and we feel we have a great partner to work with out of countries such as UAE, Saudi Arabia, Kuwait, Qatar, Bahrain, and Oman," added Francois Wolberg, Business Development Manager, Global Textile Logistics
Vital Statistics At Phoenix International
Founded in 1979
Headquartered in Wood Dale, Illinois (Chicago)
2,000 employees
One of the Top Work Places1
One of the Healthiest Companies in America2
Top 30 Best Places to Work3
42nd largest privately held company4
19th largest air export forwarder in North America5
24th largest freight forwarder6
Fiscal Year End: June 30th
Fiscal 2011 Revenue: $1 Billion
Ocean Freight Volume: 250,000 TEUs
Air Freight Volume: 41,000 Tons
Average Growth: 15-20%
Global network of more than 300 locations in 125 countries
    USA – 23
    Pacific Rim – 25
    South Asia – 12
    Europe – 11
    Oceania – 1
    Exclusive Agent Network – 225