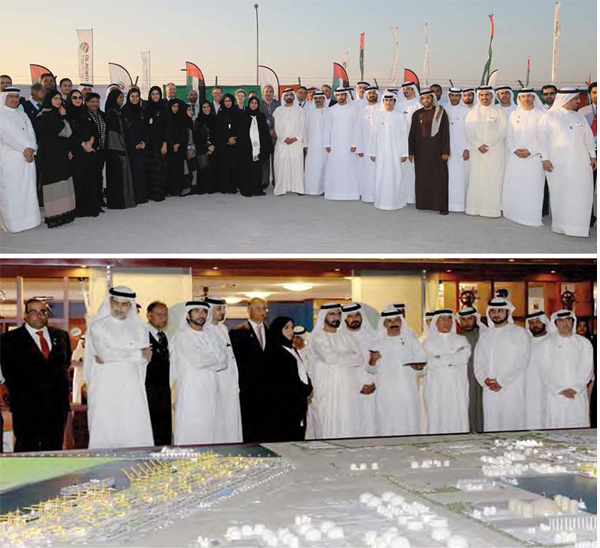 2014 opened with grandeur with the inauguration of Container Terminal 3, the World's Largest Semi-Automated facility, by His Highness Sheikh Mohammed Bin Rashid Al Maktoum, Vice President and Prime Minister of the UAE and Ruler of Dubai.
His Highness, accompanied by Sheikh Hamdan bin Mohammed bin Rashid Al Maktoum, Crown Prince of Dubai, and Sheikh Maktoum bin Mohammed bin Rashid Al Maktoum, Deputy Ruler of Dubai, were welcomed to Terminal 3 by HE Sultan Ahmed Bin Sulayem, Chairman, DP World, Mohammed Sharaf, Group CEO, DP World, Mohammed Al Muallem, Senior Vice President and Managing Director, DP World, UAE Region and other senior officials.
During the visit, His Highness Sheikh Mohammed viewed the construction of the pioneering Terminal 3, which will add 4 million TEU (twenty foot equivalent container units) capacity to Jebel Ali Port this year, taking total handling capacity to 19 million TEU.
Jebel Ali Port is the pride of the UAE, leading the industry by implementation of large scale automation. This includes 19 sophisticated automated quay cranes and 50 automated rail mounted gantry (RMG) yard cranes, all operated from a purpose-built operations building using remote control technology. This is also in line with His Highness's vision of transforming Dubai with smart systems using technology.
Automation and new technology are our way of the future and will help our customers and the wider supply chain realise efficiencies on land that the new mega-ships generate at sea. Next generation vessels are a large support system to excellent customer service and will help us offer efficiencies as the country gears up to handle the cargo required for Expo 2020 preparation.
As a result of smart system technologies, quayside jobs such as remote quay crane operations will be located inside the new Terminal 3 Operations building.  This has proven to be attractive to Emirati nationals, including women, who, we are delighted to note, make up a significant number of our new T3 team.
During his visit, His Highness Sheikh Mohammed talked with some of the new female recruits about their new roles and one of the women crane operators gave His Highness a live demonstration of a remotely controlled quay crane.
Planning for the long term and focussing on the next generation of Emiratis, is something DP World have always done and will continue to for the benefit of future generations. Indeed, 30% of the new quay crane operators recruited are Emiratis. The figure is even higher for RMG operators, with 70% of those recruited being Emiratis.
With the opening of Terminal 3, Jebel Ali Port will be able to handle ten of the largest vessels afloat simultaneously – the only port in the region able to do so. With the forthcoming connection of Etihad Rail to Jebel Ali Port, the port will be part of a multi-modal supply chain that seamlessly links sea-road-rail and air through the Dubai Logistics Corridor, reinforcing our position as the premier gateway for the region and the entire Middle East.