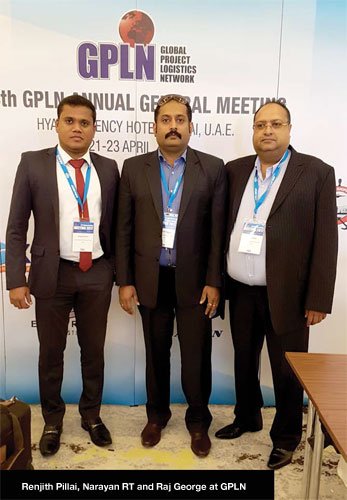 GPLN concluded successfully their 14th Annual General Meeting at the Hyatt Regency Hotel in Dubai where a multitude of GPLN members from around the world had plenty of networking opportunities during intense meetings and social events to maintain existing and established new contacts that will benefit greatly their business.
Consolidated shipping group was represented at the GPLN meet by Raj George – Senior Vice President Projects, Oil & energy, Narayan RT – General Manager CSS Bahrain & Qatar, Renjith Pillai – General Manager CSS Abu Dhabi and Oman.
"The event was well organized and was quite informative. We were able to interact with the members and discuss various trends and market projections within the industry. These global meets give us a face-to-face contact with GPLN partners who enable us to build professional relationship efficiently in the most cost effective manner" commented Narayan R T.
The record breaking attendance of over 177 GPLN delegates is the highest in GPLN history and speaks itself for the quality of the network and their highly skilled project forwarders. The opening day cocktail was sponsored by the CSS Group; and that proved to be a great opportunity to meet most of the delegates, some good friends whom CSS knew for many years.
"It was an honor for us at CSS to become the sponsor for the welcome dinner of the meet this time and we are thankful to GPLN. CSS has always cherished working alongside our partners in this association and gained great knowledge and information over the years related to project logistics" mentioned Raj George.
Global Project Logistics Network (GPLN) will be conducting its 15th Annual General Meeting from 26-28 May 2018 at the Dorint Park Hotel in Bremen, Germany.
"It was indeed a privilege to be a part of GPLN network meet, Moreover it goes beyond networking, offering visibility on the current biz trends and practices in projects logistics. Also the physical interaction provides better understanding on the network partners' vision and inputs for positioning your organizational goals and the way forward to focus and concentrate on project logistics" said Renjith Pillai.