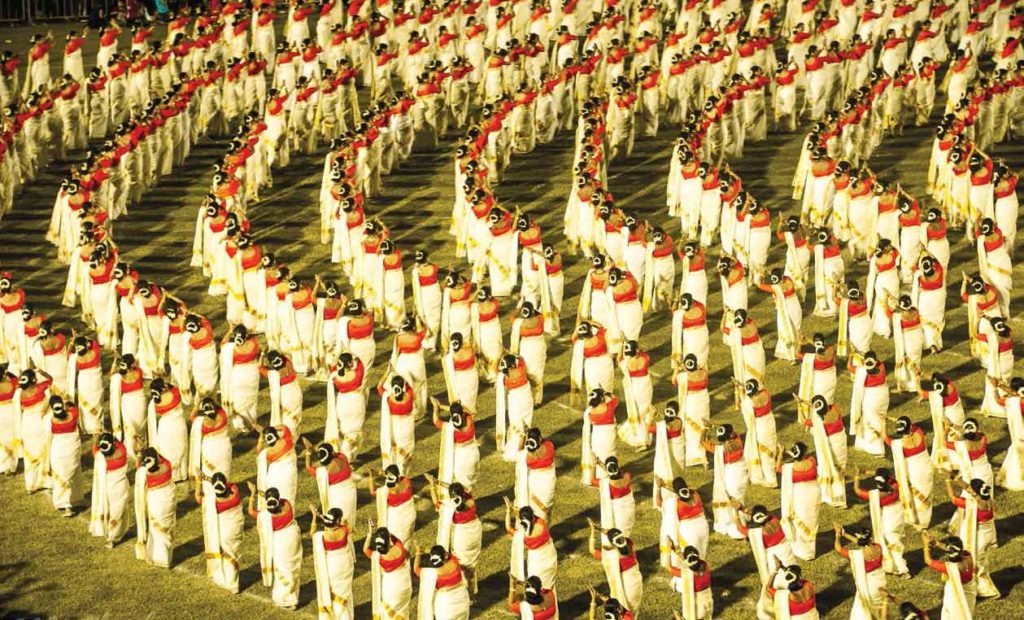 CSS Group over the years has been actively participating in many social activities which include sponsorships of cultural events, sports and charity movements. As part of giving back to society, many such programmes were initiated by T S Kaladharan, Chairman CSS Group. Back in Kerala, thousands of school children benefit by ways of educational aids and kits from Kala, every year.
The moving and relocation division of CSS Group, CSS Homeward bound recently associated with a cultural event in Dubai called Pooram 2017. The event was organized at Etisalat Academy on the 27th of October 2017. This event was exactly the same as what you would witness in Kerala minus the real Elephants and the Fireworks. The actual professional artists and Musicians that take part in Pooram in Kerala were brought to Dubai to give the real feel of Kerala.
As an added and important attraction 1246 Indian women, who are all expatriate residents of the UAE showcased the Famous Thiravthira Kali (Traditional dance form). Like all firsts in Dubai the organizers have contacted Guinness World Records witness and record this event so that the number of participants may eventually be a record breaker.
Thiruvathirakali is a dance form performed by women on the day of Thiruvathira to the accompaniment of Thiruvathira paattu. The sinuous movements executed by the group of dancers around a nilavilakku embody lasya or the amorous charm and grace of the feminine. The dance follows a circular, pirouetting pattern accompanied by clapping of the hands and singing. Today, Thiruvathirakali has become a popular dance form for all seasons. A group of women dressed in typical Kerala style with mundu and neriyathu and the hair bun adorned with jasmine garlands perform this dance during festival seasons. Kaikottikkali spreads the message of joy and also illustrates the emotions of a married woman towards her beloved and of the unmarried woman longing for one. Thiruvathira is also known as the Kerala's own version of Karva Chauth.