Face Lift For Console Shipping Services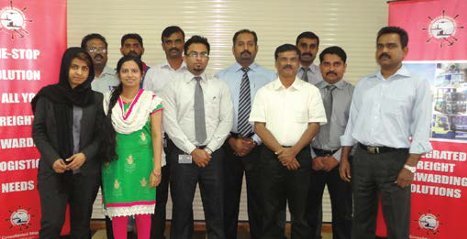 CSS Bahrain recently renovated their offices, located in the heart of Bahrain's capital, Manama. The new office boasts updated meeting rooms and interiors to keep up with the growing demand of their clients and agency partners alike.
stablished in 2002, CSS Bahrain has since rapidly increased its pace, starting as an NVOCC and spreading out its arms into the spectrum of Air & Sea freight, Land Transport & Projects handling within a short span of time, creating its own signature in each and every task it undertakes. It has grown to become a trusted partner and a market leader for the freight forwarding and logistics solution within a short period of time.
CSS Bahrain is located in the heart of Manama and operates a 10,000 Sq. Ft. of CFS facility, managed and operated by its own personnel within Mina Salmaan Port. This ensures successful handling of ocean freight containers coming in from various ports of the world. In addition, CSS Bahrain has recently added a customs bonded warehouse (1200 Sq.mt) in the Bahrain Logistics Zone, a customs-free logistics park in the Hidd Industrial area. Bahrain Logistics Zone is regulated by General Organization of Seaports, Bahrain.
"The new renovation of the CSS Bahrain offices is a testament to our commitment to our clients and partners alike. We have always been at par with advanced technology and ensuring that the needs of the customers are always met. The new renovation allows for smoother operation and can better handle the requirements of customers who visit our offices everyday," added Narayan RT, General Manager, CSS Bahrain.
With its hands on management team and highly experienced project professionals, CSS Bahrain has been offering integrated turnkey project forwarding solutions to worldwide destinations. Today, CSS Bahrain has what it takes to handle clients with global needs and provide solutions to enhance their businesses, building a fruitful partnership along the way.
NVO NOW OFFERS EXPEDITED IMPORT & EXPORT SERVICES TO AND FROM THE PACIFIC NORTHWEST

Clark, New Jersey, May 9, 2012 – CaroTrans, a leading global NVOCC (non vessel operating common carrier) and ocean freight consolidator, today announced the opening of a new CaroTrans office in Seattle, Washington.  This office will provide enhanced, expedited import and export ocean transportation services – LCL (less than container load), FCL (full container load) and breakbulk – in this active trade region.
CaroTrans' Seattle office is the company's fourteenth office in the U.S.  In 2011, CaroTrans added a Dallas office, as well as a new global office in Santiago, Chile.  They anticipate further expansion in 2012 with new office openings in the U.S. Midwest, and in global locations.
"We are committed to open offices where our customers are located to better serve their needs," said Greg Howard, Global CEO, CaroTrans.  "Our decentralized approach empowers our local teams which enables them to provide the highest level of customer service and support."
Brian Allcorn, Seattle Branch Manager, CaroTrans, remarked, "We are excited about the opportunity to serve local freight forwarders in the Pacific Northwest, an important international trade area.  We believe we are positioned well, in the U.S. and globally, to provide the service and support freight forwarders require to meet their customers' global shipping needs."
The CaroTrans Seattle office is located at: 20415 72nd Ave. South, Suite 470, Kent, WA  98032  Phone:  253-277-1898, E-mail:  briana@carotrans.com   
ABOUT CAROTRANS
Established in 1979, Carotrans International is one of the world's leading NVOCCs providing global LCL, less than container load, and FCL, full container load services.
Through our network of offices in Asia, South America, Oceania, and the United States, along with our strong local partners, we offer a global reach that is truly unique.
Carotrans is a people driven company with dedicated, experienced and knowledgeable team members who engage customers with passion and experience on a local level.
For additional information, visit www.carotrans.com

Contact:
CaroTrans, Greg Howard, 732.540.8121, 908.206.1067
gregh@carotrans.com
CKL Communications, Carol Lerner, 973.635.6923,
ckl.communications@gmail.com
The Ocean Freight Management team of Consolidated Shipping Services L.L.C. handles movement of cargo from any global origin/destination, be it LCL or FCL. With its own CFS and Supply Chain facilities, CSS's Ocean Freight Management capabilities have been rated among the best in the region. As a leading NVOCC, CSS has been maintaining an excellent relationship with leading carriers, thereby ensuring competitive rates and services. It has got an impressive 1650 destinations on a weekly basis

Built within a sprawling area of 200,000 sq.ft. with 80,000 sq.ft. insured and located within the heart of the Jebel Ali Free Zone, CFS Centre today has become a landmark success for the CSS Group.

It is equipped with 4535 pallet positions and storage capacity of 10,000 CBM.