Lighthouse - January, 2020.
CHAIRMAN'S MESSAGE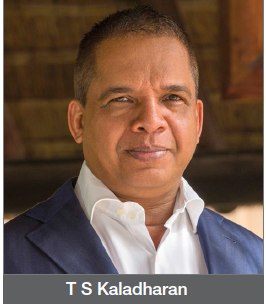 It always gives me pleasure, and the start of this New Year is no different when I can wish you all an excellent 2020 ahead.
The past year had some challenging days. Both within and beyond our organization, we have seen unexpected changes. The business conditions were incredibly challenging for the entire Shipping and Logistics fraternity. Issues which included trade wars, and unrest in the Middle East. Fortunately, as usual, the confidence and the will power shown by everyone at CSS was so amazing that together we admirably sailed through rough seas.
I genuinely feel that the power of our inner mind is the main driving force in one's life, although nowadays, we don't experience it quite as often — the foundation stone of our perceptions, decisions, and other emotions. But the demands of modern living mean many are driven away from using spiritual consciousness as a positive force. Instead, we often sideline our inner self when it comes to deciding by letting today's stresses and strains dominate.
To rise to greater things in 2020, we need to see it as an excellent opening for all of us to reunite with our inner mind. Given time and the space to re-invent or re-engineer consciousness before taking action, while achieving what seemed previously unattainable. There are promising things ahead for all of us. We need to visualize them and go for it.
The trade wars now seem to be over and will bring balance back to the ailing economy of Nations. The much-awaited Dubai Expo 2020 is just around the corner, and opportunities to grasp.
It was a similar keen mindset that drove those of us involved with the inauguration of CSS. It seems like only yesterday when CSS set sail on a journey in the Shipping and Logistics industry. 2020 marks the 25th anniversary of the company, and it perhaps fits that traditionally this anniversary is known as a 'Silver' anniversary. I am confident heralding this milestone landmark because, with our inner minds set to sail fair, any wake will drive us forward to silver-lined horizons