Lighthouse - May, 2015.
CMA CGM Honours CSS Group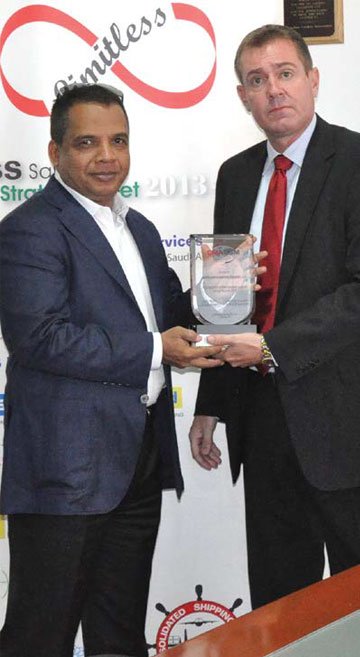 CSS Group was recently honoured by the CMA CGM as a top customer for outstanding performance for the year 2014. The award was handed over to T S Kaladharan, Chairman of CSS Group by Mr. Lars Jensen Hojbjerg, Managing Director of CMA CGM- Dubai at the CSS Group Head Office. The recognition was for the consistent performance of CSS Group with CMA for the movement of containerized cargo globally, for the third consecutive year. CSS Group is one of the leading NVOCC in the Middle East and Indian Sub-continent.
"CSS Group is honored to have been awarded with this recognition from CMA CGM and we value this partnership. Such recognitions are motivation for us to perform better and strengthen the existing bond with industry leaders like CMA", Commented T S Kaladharan at the occasion.
Founded in Marseille in 1978 the CMA CGM Group is the third-largest container shipping company globally. From its base in Marseille, the CMA CGM Group operates in more than 150 countries, with more than 20,000 employees and associates worldwide.
With a young and diversified fleet of 445 vessels, the CMA CGM Group serves 400 of the world's 521 commercial ports.
"The CSS Group relationship with CMA has been an evolving one, one that has seen an exponential growth in the last 3 years. The fact that we have been honored successively for the last 3 years as a top customer is proof enough that when there is a focused approach the results will come. CMA is an integral part of our recently instituted core carrier program, and we look forward to a fruitful association with them this year and in the future" Commented Ajay Krishnan, Senior General Manager, Freight forwarding and Key Information Department, CSS Group on this achievement.
CSS Group looks forward to see the relationship grow manifold, with CMA CGM in the years to come.