Lighthouse - January, 2013.
CSS Abu Dhabi Attends Adipec 2012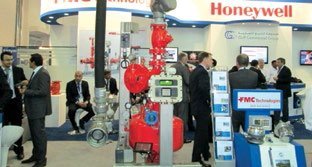 Held under the patronage of the President of the United Arab Emirates, His Highness  Sheikh Khalifa Bin Zayed Al Nahyan, and organized by dmg: events, ADIPEC is the largest exhibition for the Middle East oil and gas industry, supported by Abu Dhabi
National Oil Company (ADNOC) and the UAE's Ministry of Energy, it hosts over 4000 delegates, 1,600 exhibitors, 38,000 square meters of space and attracts more than 50,000 attendees from 91 countries and is considered as the event where oil and gas industry professionals get together to experience, discover, network, discuss and debate core industry issues.
By the close of day three attendances at the 2012 edition of the Abu Dhabi International Petroleum Exhibition and Conference (ADIPEC) was 20% higher than the total recorded at the 2010 show.
Involvement from Middle East countries was also higher than ever, with delegations from Saudi Arabia, Qatar, IRAQ and the wider  region.
The highly anticipated ADIPEC 2012, also witnessed for the first time a joint participation between CSS Abu Dhabi and Gulf Commercial Group Engineering  Services.
Gulf Commercial Group- Engineering Service, a member of GHOBASH TRADING was established in 1982, specialized in Oil & Gas products trading focusing on the downstream requirement for supply of Precision Instruments, Transmitters, Recorders, Flow Computers, Metering Systems, Telecommunication equipment and cabling, Terminal Loading Automation and SCADA systems. Gulf Commercial Group mission is- Helping to Maximize Client Performance by providing unique specialized service to our value customers in diversified market segment.
Presently Gulf Commercial Group are the Middle East Distributor of FMC Technologies for Liquid & Measurement solutions and the representative for Honeywell, Johnson Pumps, Fluenta with wide range of Oil & Gas products. Offices are located in Abu Dhabi, Dubai & IRAQ. For further information visit the website: www.gcg-es.com.  In attendance from GCG Group was, Jean Pierre Antypas (General Manager), Ayoob Salah Al-Deen (Sales Manager- IRAQ Territory),  Abdullah Sarji (ADIPEC Stand Manager), Sanil Chithambaran (Logistics Head), Bill Carpenter (FMC Regional Manager, Liquid Products) and Kevin Stump (FMC Export Sales Manager).
CSS Abu Dhabi showcased its first class products and services along with participating in keynote networking sessions amongst the Oil and Gas fraternity.  The CSS Abu Dhabi delegation that attended included, Gillian Alexander, Manager Ops. & Cust. Service and Rajneesh Menon, Sr. Sales Executive.
Commenting on ADIPEC, Gillian added, "As the show has grown, the venue has grown as well, matching the needs of the event with the most modern facilities and technology.  ADIPEC is one of the highly anticipated exhibitions/conferences on the UAE events calendar and it was a great opportunity for us to participate and network."
Moreover the Logistics support provided to Gulf Commercial Group, headed by  Rajneesh Menon & CSS Abu Dhabi team was highly acknowledged and appreciated on this venue.
During the course of the 4 day exhibition, CSS Abu Dhabi & Gulf Commercial Group took the opportunity to increase their visibility amongst the key players in the Oil and Gas industry while meeting various members of the fraternity through which numerous partnerships were created and commitments made for future business.
Mohammed Sahoo Al Suwaidi of GASCO, who has been appointed as Chairman for ADIPEC 2013, said: "Understandably, with the oil and gas industry in the region growing rapidly and with an increasing focus on best practice, there has been a demand to make ADIPEC an annual event from 2013."
This growth and demand is unabated. We continue to have a waiting list of exhibitors and require yet more space, and therefore there is a need for an annual platform," he added.
Al Suwaidi continued: "With the growth of gas projects in the region, the focus on gas for the conference programme will help aid business in the region. I am honoured to be appointed Chairman for ADIPEC 2013 and look forward to building on past success."
ADIPEC 2013, taking place from November 10-13, 2013, will have a strong focus on gas, reflecting its increasing share of the global energy mix and heightened regional demand for gas for power generation.  13 national pavilions have confirmed for ADIPEC 2013 and 15,000 square metres of exhibition space have already been booked for next year's show.
Together we are stronger: Following this principle CSS Abu Dhabi is growing rapidly with the succor of Gulf Commercial Group since they announced CSS as their official Logistics partner. By acknowledging the gratitude to Jean Pierre on this occasion CSS wishes them a very prosperous New Year by affirming strong support in their future business.