Lighthouse - September, 2014.
CSS Abu Dhabi Provides a Single Window on Pharma Transport Solutions
Pharmaceutical companies around the world rely on us for customized, swift and safe delivery of their high-priority shipments. Due to the delicate nature of the cargo, pharmaceutical companies often look for a single window of operation to handle their requirement from end to end, thus ensuring single accountability and attention to detail from its logistics providers. We ensure the integrity and quality of sensitive, high-value pharmaceutical goods, offer distribution and controlled supply chain management programs.
Individualized Services offered by CSS Abu Dhabi:

Consultation with customers to review global transport requirements for their materials, as well as import and export requirements for customs clearance
Sourcing and provision of packaging supplies such as insulated shippers, UN certified shippers for all ambient refrigerated and frozen shipments, gel-packs, dry ice and temperature controlled shipping containers and temperature monitors
Pre-customs clearance in selected cities.
Transfer of Medicine to the cold room upon arrival in Abu Dhabi Airport.
Quick delivery order process at Abu Dhabi Airport.
All Transport Temperature Controlled – Chilled (+2°C to +8°C) and ambient (+15°C to +25°C) pharmaceuticals.
We handle time bound medical equipments.
Our own temperature controlled warehouse in Abu Dhabi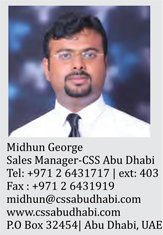 "My aim is to reach out into the niche market audience with our new product "Pharma Logistics", having identified this as a unique sector which has a potential growth opportunity for its business since the healthcare industry is experiencing  a boost in the UAE over the past few years. By having the first mover advantage in this untapped sector, has meant that CSS Abu Dhabi has closely monitored and researched all aspects of Pharma logistics and, given their global expertise in the field of logistics, will be an invaluable asset to the pharmaceutical industry in this field.  With a keen focus on hospitals, medical supplies providers, medical equipment trading and pharmaceutical companies, CSS Pharma Logistics has set the stage to grow exponentially within this existing sector, which will further diverse its vast service portfolio and help to secure the future growth," said Midhun George who is in charge of  Pharma Logistics.