Lighthouse - November, 2012.
CSS And Peters & May Handle Racing Boats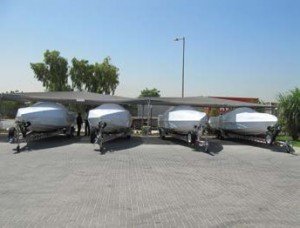 CSS and Peters & May recently handled several luxurious powerboats at the CSS Jebel Ali facility whereby lavish boats were moved carefully and kept at CSS's secure facility in Jebel Ali. See
CSS VP of Business Development, Ken Dinnadge commented,  "We are delighted to have the experience and expertise operationally to service both the regional and global market for Yacht & Marine logistics with Peters & May."
The CSS Yacht and Marine logistics division supported by Peters & May fully understand that racing yachts and boats are invariably very expensive and notoriously fragile and as racing events occur in ever more far-flung destinations, completing a whole season, and achieving it intact, has never been more of a challenge when it comes to Yacht and Marine logistics worldwide.
Peters & May, the world's only ISO fully accredited boat transporter and the CSS Group – when there's no time for error ensure that effective movement and handling is taken care of no matter the shape or size or number of boats.
Power Boats
Peters & May is the Approved Marine Transport Provider for UIM, the World governing body for all Power-boating activities, and is the first marine transport provider to be accredited by the UIM for the high standard of logistics services and its focus on development of the sport at all levels.
Peters & May are also the Official Transport Agent for the American Boat Racing Association (ABRA), the Official Logistics Partner of the Cowes Monte-Carlo Powerboat Grand Prix 2013, as well as the P1 Superstock Championships, the Qatar Race Team and the H1 Air National Guard Hydroplane Series.