Lighthouse - January, 2013.
CSS Annual Staff Party 2012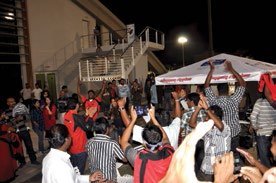 CSS Group celebrated its 17th anniversary staff party at The ICC-GCA Cricket Grounds on Thursday November 29th, 2012. In conjunction with the SPACE-CSS Alleppey Ripples cricket match, the staff and their families enjoyed watching first class cricket while enjoying dinner catered by Tharavad Restaurant- "truly authentic South Indian Cuisine." On this auspicious occasion the employees who had completed 10 years of service, Mr. Qais Abdulla, Ms. Gillian Alexander, Mr. Ansar Ali, Mr. Hassan Haji, Mr. Biju Kumar, Mr. Bhaskara Paniker, Mr. Sajith Vijayan and Madhu Parameswaran were honored for their valuable service.  The staff and families celebrated the SPACE-CSS Alleppey Ripples cricket match win in high spirits encouraged by the music played by the DJ who kept the party going till late!
CSS Group Chairman and the Senior Management extended their gratitude to the sponsors, valued associates, and all CSS departments who had sponsored the prizes for the CSS 17th Anniversary Annual Staff Party.