Lighthouse - April, 2011.
CSS Annual Staff Party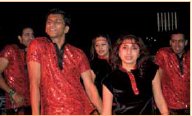 CSS Group celebrated its 16th anniversary staff party at The British Club in Abu Dhabi on Friday 1st April, 2011.The annual party began at 8.30 pm with the employees and their family members arriving at the venue. The evening commenced with the opening remarks from the CSS Group Chairman, T.S. Kaladharan. On this auspicious occasion the employees who had completed 10 years of service, Ambili Don, Vasudevan Nambiar, Vinod Kumar Rajendran and Nelson David were honored for their valuable service. The senior management felicitated the highly anticipated employee of the year was announced, Ajo Andrews for year 2009 and Sujith Valavath for year 2010. This was followed by the performances by the employees and their family members, which included dance, songs and skits. With the dance floor packed throughout the evening and the DJ playing the latest hits the night turned out be one of a kind.

On behalf of CSS Group Chairman and the senior management we are thankful to our title sponsor of the event Emirates Airlines and all our valued associates who had sponsored the prizes for the CSS 16th Anniversary Annual Staff Party. A special thanks goes to the Organizing committee, Amith Horra Marketing Manager CSS, Deepu S. Dev, Marketing coordinator, Chandrakala, Management trainee and to all of the CSS Staff who assisted with the overall operations for the event. Thank you.