Lighthouse - January, 2014.
CSS Attends FPS AGM – Colombo
FAMOUS PACIFIC SHIPPING (FPS) GROUP – HAS CELEBRATED ITS 15TH ANNIVERSARY WITH ONE OF ITS BEST-ATTENDED ANNUAL CONFERENCES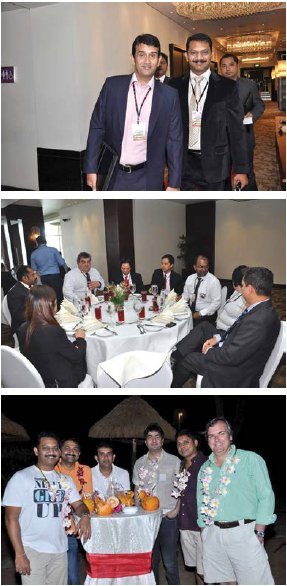 Over 101 delegates, including 2 new members and 5 candidates, attended the 4 day event held at the Cinnamon Lakeside Hotel in Colombo, Sri Lanka. The programme included the Annual General Meeting, workshops on IT, network development and marketing, and two days of intensive one to one meetings between members.
At the gala dinner, 28 founder members who had attended every past Annual Conference were publicly recognized with awards. Commenting on the event, Chairman Gihan Nanayakkara said: "This was one of the best annual conferences in our history, demonstrating the strong commitment of our members to support FPS and take it forward. We discussed new products, shared ideas and went away with many new initiatives to work on. I am delighted to be continuing in my role, and look forward to helping steer FPS Group through an exciting period over the next two years. We have achieved a great deal in the past 15 years, but much greater potential still lies ahead of us."
During the AGM, conference host and outgoing Chairman of the FPS Group Advisory Board, Gihan Nanayakkara, was re-elected for a further two year term. Sam Aparo of Famous Pacific Shipping in Melbourne was appointed to the Board, replacing Michele Dougal (Brisbane, Australia), and Iskandar Zulkarnain of FPS Indonesia replaced his colleague Hendratmoko Walujo. Kettivit Sittisoontornwong (Thailand) was also re-elected.
"The FPS AGM is a platform for its members around the world to participate in networking sessions with other freight forwarders from across the globe whilst discussing new trends and opportunities amongst the freight forwarding fraternity," added Siby C. Kurian, Senior General Manager, Sales & Marketing  – CSS Dubai.
CSS Group was well represented during the FPS AGM 2013 with active participation from its network offices; in attendance was Dean Landers, General Manager CSS Kuwait, Narayan R T, General Manager – CSS Bahrain, Jairam KR, Director – CSS India, Rahat Talreja, Vice President – CSS India, Rajesh Arora, Vice President, North India – CSS India, Eugene A. Raj, Branch Manager – CSS Chennai, Tariq M. Chaudhry and Siby C. Kurian, Senior General Manager, Sales & Marketing  – CSS Dubai.