Lighthouse - November, 2012.
CSS Bids Adieu to Radhakrishnan (Babu)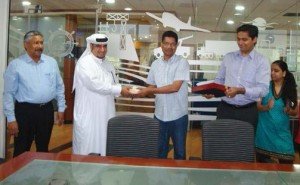 After over 17 years of service at CSS Group Radhakrishnan (Babu), Senior Manager Air Freight and Operations will be relocating to the Business Procurement Office (BPO) Twin Info Solutions Pvt. Ltd, based in Kerala, India. During the course of his tenure at CSS Group, Babu, exhibited not only a high level of leadership and commitment in all his endeavors but also proved himself as a strong team player.
In his current position as Senior Manager Operations, Customs Documentation Department, Babu provided the highest level of service to customers and clients alike which enabled him to not only create but also maintain and strengthen loyalty of clients to CSS Group. His exceptional work ethic enabled him to be a role model for new and old staff alike and on behalf of CSS Group we wish him all the best for his future endeavours.
In his new position at Twin, Babu will be overlooking the back office activities related to Air freight and shipping as well as auditing the customs related activities.