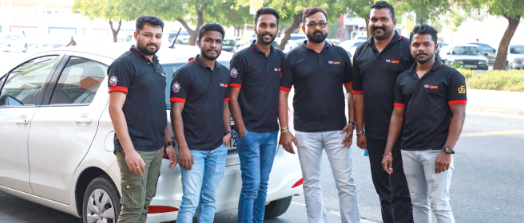 As part of our Ramadan initiatives of giving, this year, CSS took a step forward by distributing iftar meals to the needy, reflecting the true essence of the holy month. We conducted the iftar food distribution drive on 29 April 2022 distributing 101 iftar meals to blue collar workers who toil hard under the hot sun during Ramadan
The team that went on the streets to fulfill the initiative included Alan Ramesh (Marketing Assistant), Rajeesh Rajendraprasad (Operation Co-ordinator), Chuchu Viswanathan (Operation Executive – Forwarding), Amal George (Operation Co-ordinator), Aneesh Leela (Messenger) and Babu Krishna Pillai (Messenger). The iftar meals were distributed in the Karama and Burjuman areas of Dubai.
The iftar initiative reflects CSS's continued commitment to the community we operate in. Speaking about the Ramadan initiative, T S Kaladharan, Chairman of CSS, explained, "It is essential to foster a culture of caring and giving to inspire the next generation to be community builders."
The Ramadan initiative extends CSS's strategic corporate social responsibility goals and fosters a spirit of volunteerism within the organization. Kaladharan emphasized, "We are inspired by the spirit of giving exemplified by the great leadership of his wonderful nation. We want to drive  home the message of charity and social responsibility that is embedded in its tenets of our country."
Ramadan is the holy season where goodness abounds, and CSS would like to show that we are not just about business, we also mean business regarding community building.
Click here to watch the video of the CSS Ramadan initiative:
www.youtube.com/watch?v=gyfgSNyBz3U