Lighthouse - November, 2021.
CSS FORAYS INTO FINE ART LOGISTICS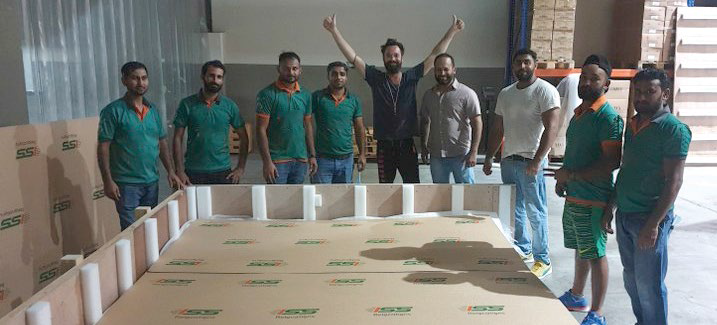 CSS has added another feather to its glorious cap by completing a Fine Art export for a prestigious client. These high valued paintings needed to be moved from UAE to its destination in the USA. We were successful in achieving this complex shipment which involved several intricate details being looked into.
Fine Art shipments require thorough pre-planning so that it is executed without any issues from start to finish. Since the shipment was delicate and high-priced, CSS facilitated a seamless process till door delivery in the USA.
There were four pieces of very expensive paintings done by one of the most renowned international artists of Dubai who wished to ship for one of their buyers in the USA. The timeline was tight with plenty to do right from gathering the packing materials, arranging soft-packing, erecting the paintings, ensuring wood treatment is done to avoid any bending etc. Post packing, a sensitive movement was required with escorts from CSS warehouse to Airport. Being an unusually large packed crate it could only be carried by cargo freighter. Thereafter liaison with airline ground staff was carried out to ensure the crate is boarded on time to its destination. In the last-mile we performed the customs clearance in USA, valuation by customs, survey of the crate condition, pick this valuable Art-Crate to deliver and unpack to shelf to the new proud owner's gallery.
Big Thanks to the splendid job done right from the sales person to identify the prospect, the Operations team to carry out the job with precision and deliver on time at destination.
Dubai – A Hub for Fine Art
Dubai's cosmopolitan culture attracts both artists and art lovers, a gateway for the east and the west. With many galleries, exhibitions and museums always open, the art scene in Dubai is a burgeoning one. The city's vibrant art scene has established Dubai as a cultural centre for the global arts community. Dubai's art connoisseurs and ongoing fine art exhibitions aplenty. Therefore, there is a continuous need for the movement and handling of multi-million-dollar arts.
Fine Art Logistics – Proud to be included in the CSS portfolio
CSS offers specialized fine art logistics services to museums, institutions, galleries, auction houses, and private collectors. We understand that moving art is different as compared to our regular logistics services. Fine Art Logistics calls for specialized packing and unpacking, and installation. It has to be handled with utmost care and precision from start to installation. Our art logistics experts have been specially trained to handle priceless pieces with care and commitment to ensure safety during the entire shipment process.
Portfolio of services offered by CSS Fine Art Logistics
Soft packaging, palletizing, and made to order crating as per the client's need.
Humidity and temperature-controlled storage with individual lock facilities.
Specially equipped trucking to insure safe and secure movements.
Global transportation by air/sea/land with complete documentation for all purposes.
Art insurance for door-to-door services.
Comprehensive Fine Art installation services in residential, commercial, public spaces, hotels, and exhibitions.
Our Audience:
Artists (paintings containing acrylics, oils, tempera, water colour & mixmedia)
Sculptors
Fine Art Collectors
Fine Art for museums and galleries
Complete project Handling for Fine art auctions, events, and exhibitions