Lighthouse - September, 2014.
CSS Group Featured on BBC World News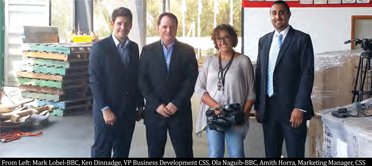 With all eyes on a possible lifting of sanctions on a resource rich Iran, BBC World News had a special feature on highlighting the opportunities that would be available especially for the freight forwarding and logistics sector in the region. Titled, "Iran attracts investors hoping for trade sanction relaxation," the BBC World News filmed part of its segment at the CSS Group's Container Freight Station based in Jebel Ali Freezone. Iran's nuclear talks have been extended until November, but whilst the negotiations continue, many companies have been re-building business relations with their Iranian counterparts driven by the enormous potential the lifting of the trade restrictions would bring. CSS would like to extend a special thanks to Mark Lobel and Ola Naguib from the BBC for giving them the opportunity to be a part of the ground-breaking series.