Lighthouse - January, 2018.
CSS GROUP HOSTS ITS 23RD ANNUAL CHRISTMAS EVE LUNCH IN DUBAI, UAE
CSS GROUP'S HQ IN DUBAI HOLDS ITS YEARLY CHRISTMAS EVE LUNCH FOR STAFF AND EMPLOYEES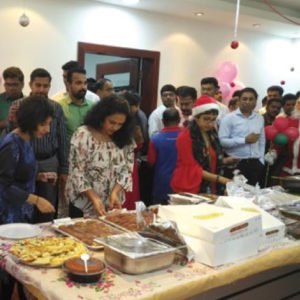 24th December, 2017: The CSS Group's HQ in JAFZA, Dubai, UAE bustled with excitement as food, drinks and year-end decorations adorned the CSLC 1 Conference Room.
Nearly 100 CSS staff members attended the themed Season's Greetings Potluck spread, where each guest contributes a different and unique dish of food, often homemade, to be shared. The plethora of items on the menu ranged from Spatchcock Chicken, to Chicken 65, to Baskin Robbins ice cream for dessert.
The CSS Director of NVOCC – ChandraKala – commenced celebrations with a toast to all attending, looking forward to the future of the organization, and expressing appreciation for the CSS Christmas Committee and the CSS Marketing division's support.
On behalf of the entire CSS Group, we wish you a Merry Christmas, Happy Holidays and Happy New Year!