Lighthouse - November, 2014.
CSS Group KPL Dubai Season 3
KPL ENTERS SEASON 3 WITH CSS GROUP AS THE MAIN SPONSOR OF THE EVENT


CSS Group KPL Dubai Season 3 kicked off to a glittering & glamorous start on the 17th October at the ICC Grounds, Sports city Dubai. The inaugural function which was attended by celebrities and dignitaries from DCC went off with a colorful performance from DJ Kips & Music Band Masala Coffee. The toss went up at 7:30 in the evening for which hundreds of fans from both Palakkad Harvestors and Cochin Diwans, who played the first match witnessed. KPL Directors, T S Kaladharan, CTK Nasir, Paul T Joseph & Thomas Philip were present on the ground. KPL convener Radhakrishnan (Radhu) narrated the events from the ground. KPL Director & ambassador Bharat Suresh Gopi, Narain & Bhama cheered the onlookers. Josh FM 97.8 RJ Parikshith did live programme from the venue. Friends from the media, and other team members and owners were present for the function.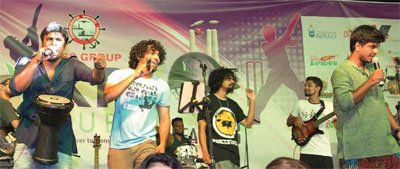 A total of 12 Glorious Teams named with 12 Districts from Kerala is playing the tournament for the coveted KPL trophy. Each team consists of a minimum of 2 players preferable from the respective districts of Kerala in a playing XI and the remaining from local talent with one player under the age of 22 and maximum of 2 overseas players.

CSS Group since celebrating their 20th anniversary, has become the Title sponsors for KPL this year

The tournament is managed and supported by AAA Group, Petrotek, Space max LLC & Nucaf.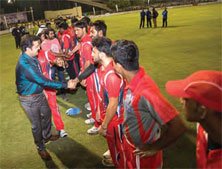 KPL Dubai is the biggest Asian sporting event of the region and it gives you the opportunity to be known to and reach, one of the largest communities in the region. After the super hit Indian Premier League and in consideration of the 4.5 million Asian populations in the UAE – the highest number among all expats, Kerala Premier League Dubai was formed under the guidance and support from the Dubai Cricket Council, and the generous patronage from the sponsors and the cricket loving community in Dubai. KPL successfully completed 2 seasons of cricketing festival in Dubai and has entered the third season with a bang. The final will be played on the 21st November 2014.

KPL Dubai offers the richest prize money in this segment of cricket with a total of 250,000 Dirhams. Lots of surprising gifts are there for spectators as well.

Brand Ambassadors of KPL – Bharat Suresh Gopi, Actor Narain and Actress Bhamaa were present along with actor Joju who came to cheer for the Palakkad Harvestors Team.

The finals would witness renowned Thykoodam Bridge on stage for the closing day celebrations.