Lighthouse - May, 2011.
CSS Shake Hands with Peters & May
CSS enters into a strategic alliance with Peters& May, the global yatch transporting company, providing total logistics support for the latter in the Middle East region. Consolidated Shipping Services' strategic positioning in the Jebel Ali Freezone and the advantage of Global presence, kindles a smooth completion for all project activities, both companies undertake.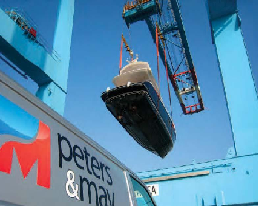 "It has always been our goal to select partners that are well-placed and capable of meeting the requirements of our worldwide customers. We recognize Consolidated Shipping Services proven ability to deliver service to the highest caliber because of its set-up of offices in key locations, strong contacts and access to local officials and customs clearance for quick and efficient support. Due to the increased volume of business being carried out by our local Dubai office, we have found it necessary to appoint an agent with an existing network of offices in the region, which will support the growth that we are anticipating in the region," said Gerald Price, Managing Director of Peters & May about the partnership.
T S Kaladharan, Chairman, Consolidated Shipping Services states, "With the growth in the number of waterfront developments being completed in the UAE we too recognized the need to partner with a firm that has received global recognition in boat transportation. In addition, we both share the same unmatched professionalism that has made us recognized leaders in our specialized fields."
Peters & May has over 30 years experience in the provision of marine logistics and offers global boat transportation and freight forwarding via air, road, rail and sea from a global boat transportation and freight forwarding via air, road, rail, and sea from a global network of offices and exclusive agencies. The company ships 8000 vessels through more than 150 ports in over 60 countries and is the preferred shipper for many of the world's leading boat builders, including Correct Craft Inc, Gulf Craft, Princess Yachts, Sunseeker and Viking Yacht Company.